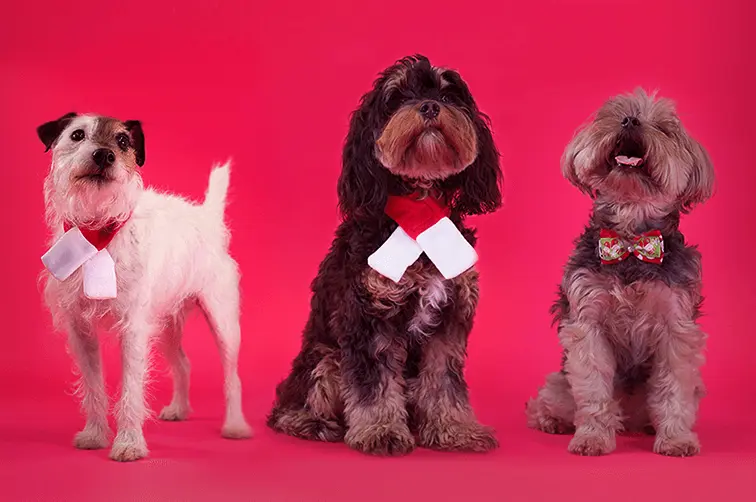 After such a busy year, it's good to sit back and reflect on the successes and lessons from the last twelve months. At Sorted, we've grown our team, our client list and our expertise; making 2019 our best year yet. As we get deep into peak, and start to get festive, we're celebrating all our unstoppable Sorted sorts who have done themselves and the company proud this year.
There are six employees who have worked harder than anyone else though. Even though they fall asleep in meetings and can't seem to grasp .NET, they've excelled when it comes to chasing tennis balls and they're always barking on about the importance of customer experience. So we thought we'd share some howl-iday cheer and introduce you to the furriest, most impawtent members of the Sorted team.

PEPPER
This is Pepper, the Cavapoo.
She likes socks, chewing leaves, scooby snacks and belly rubs.
She doesn't like chicken, being brushed and not getting belly rubs.

ALFIE
This is Alfie, the JackChi (Jack Russell/Chihuahua cross).
He likes carrots, stealing slippers and people making a fuss over him.
He doesn't like anything with wheels, wearing his coat and not sleeping in bed with his humans.

JUNO
This is Juno, the Springer Spaniel.
She likes stealing the cat's toys, a cheeky slice of toast and spooning her humans when she wakes up.
She doesn't like walking on the lead, being left on her own or vegetables.

FERGIE
This is Fergie the Parson Russell Terrier.
He likes chasing squirrels, morning walks and doing tricks.
He doesn't like vans, cats or animals on the TV.

HATTIE
This is Hattie the Shorkie (Shih Tzu/Yorkie cross).
She likes sleeping, walks – as long as they're not muddy, treats and chasing squirrels.
She doesn't like the dog grooming parlour, fireworks or too many people around her.

SKY
This is Sky, the Cavachon.
She likes sprinting around the house at lightning speed, playing with her best girlfriends and giving her humans the puppy dog eyes.
She doesn't like getting a haircut, wearing the lovely Christmas outfit her human picked out, or when her puppy dog eyes don't work.
That's your lot. There's our annual Sorted pupdate, especially designed to wish you a Yappy Christmas.
Now, all that's left to do is say: thanks to everyone fur making 2019 so pawsitively game-changing… bring on the same again in 2020!
(We'll have to leave it there, because we've exhausted all our dog puns. Oh, come on – throw us a bone, they were alright. Just get in touch with us on Twitter if you think of any we've missed.)
---