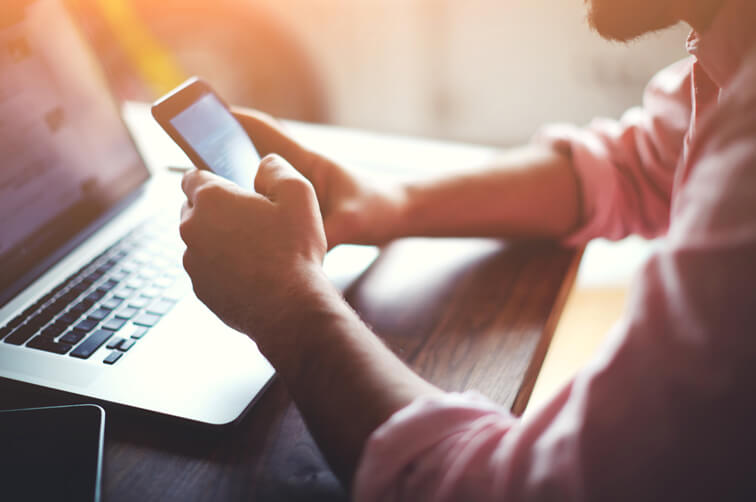 If the last 12 months has taught us anything, it's that the gap between the winners and the losers has widened in the retail industry. Successes have been sweet for many, but failures all too common as well. Every small win is a big win. And, in an unpredictable landscape, creating a connected customer experience is everything.
As a retailer, you'll always have one eye on your performance and one eye on your competitors. It's important to know how your delivery experience scores, and it's equally important to know how industry standards are changing too. Knowing your own strengths and weaknesses is often about best practice; knowing what other brands are doing well, or not so well.
We recently 'mystery shopped' 25 retailers, to gather insight and learnings based on CX in practice. Although we found some concerning issues with post-purchase comms, there were some good examples of market-leading CX too. Here are a couple of examples of the good, the bad and the ugly (anonymised, of course).
THE GOOD
Flexible checkout
Convenience and control is important for customers when it comes to delivery. Gone are the days of prescribing one or two delivery options and hoping the customer agrees. Now, customers want options that can fit around their lives, with one study finding that over 90% of customers report that they have abandoned an online purchase because it wasn't convenient. They want to pick their delivery option based on their own timeframe, cost and need.
For retailers, that means aligning offering to operational capability. In short: only make promises at the checkout that you know you can keep.
A great example of this was a music retailer that allowed us to select our delivery date preference from a calendar, our delivery service options from a list and then, of course, managed to get the parcel to us exactly as planned.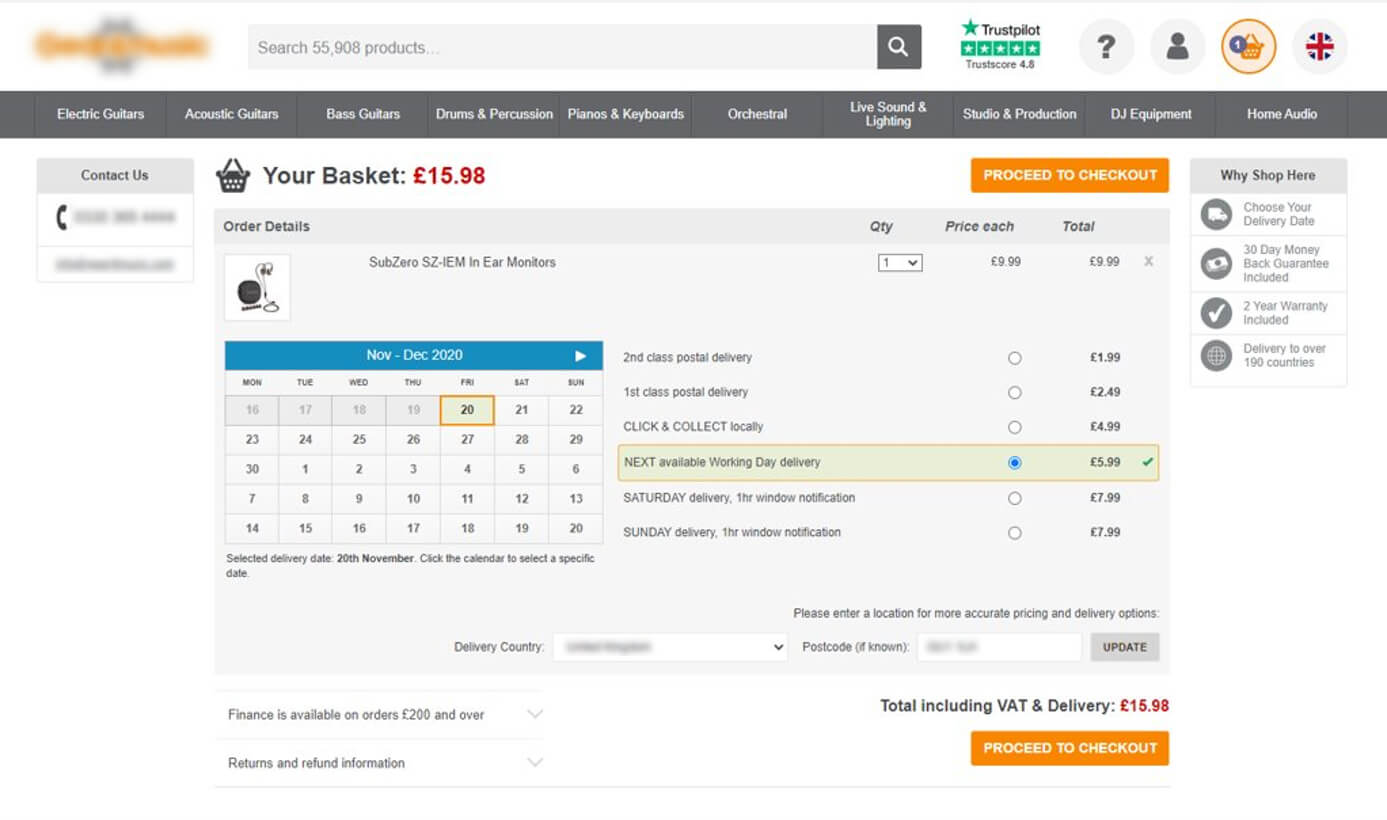 Expectation management
Our customer journey research also found an example of flawless customer expectation management. This food subscription box retailer kept us up to date throughout the delivery journey – even sharing an accurate timeline of the shipping process. We simply didn't need to track our delivery or ask 'where is my order' (WISMO), because we were kept up to date throughout. WISMO enquiries make up around 80% of all customer contacts for some retailers, and can cost between £4 and £6 to resolve – so any slight reduction in volume can make a huge difference, especially during peak periods.

THE BAD
Broken promises
Going back to the earlier point on making delivery promises you can keep, we shopped with one beauty retailer that did the opposite.
We were offered a 'next day delivery' service if we ordered before a specified cut off time (already leaving room for customer disappointment if the option is there but just missed). Despite pre-purchase assurances of next day delivery and us forking out for the privilege, our confirmation page informed us that we could expect our parcel within 3-5 working days from dispatch. Frustrating.
This is an example of how the checkout and the DC should always be connected, to ensure real-time service availability checks can be done and accurate carrier options can be served to customers.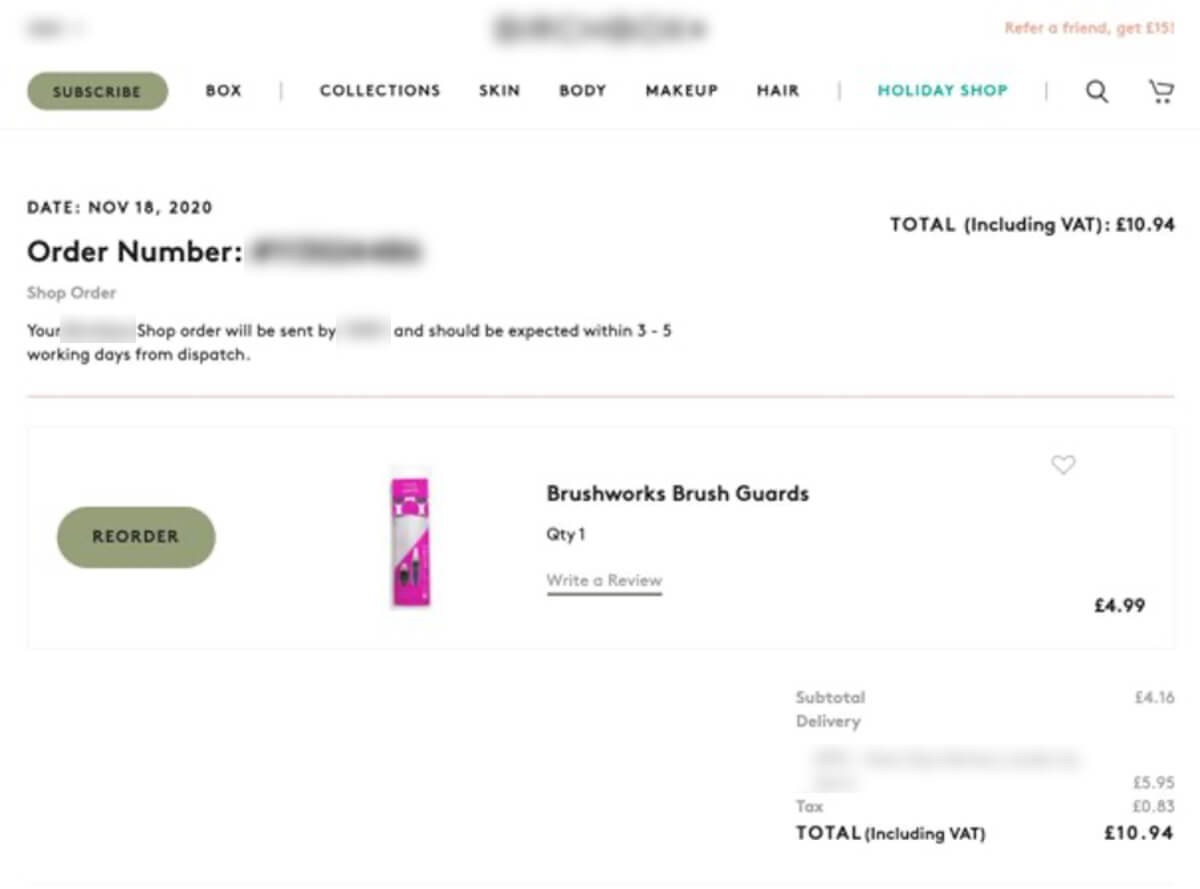 Time travelling communications
For more than one retailer, communications came from multiple sources and were often out of sync. In one case, we got notified that our parcel had been dispatched almost 12 hours after the parcel was delivered. In another case, we were notified of a rescheduled delivery slot for confusing time (again, when the parcel had already arrived on the doorstep).
If communications come from unbranded sources, carriers and/or your own channels, the language is confusing and the journey is often broken for customers. Making these consistent, branded and easy to understand increases the chances of first-time delivery success, as well as keeping customers happy and loyal.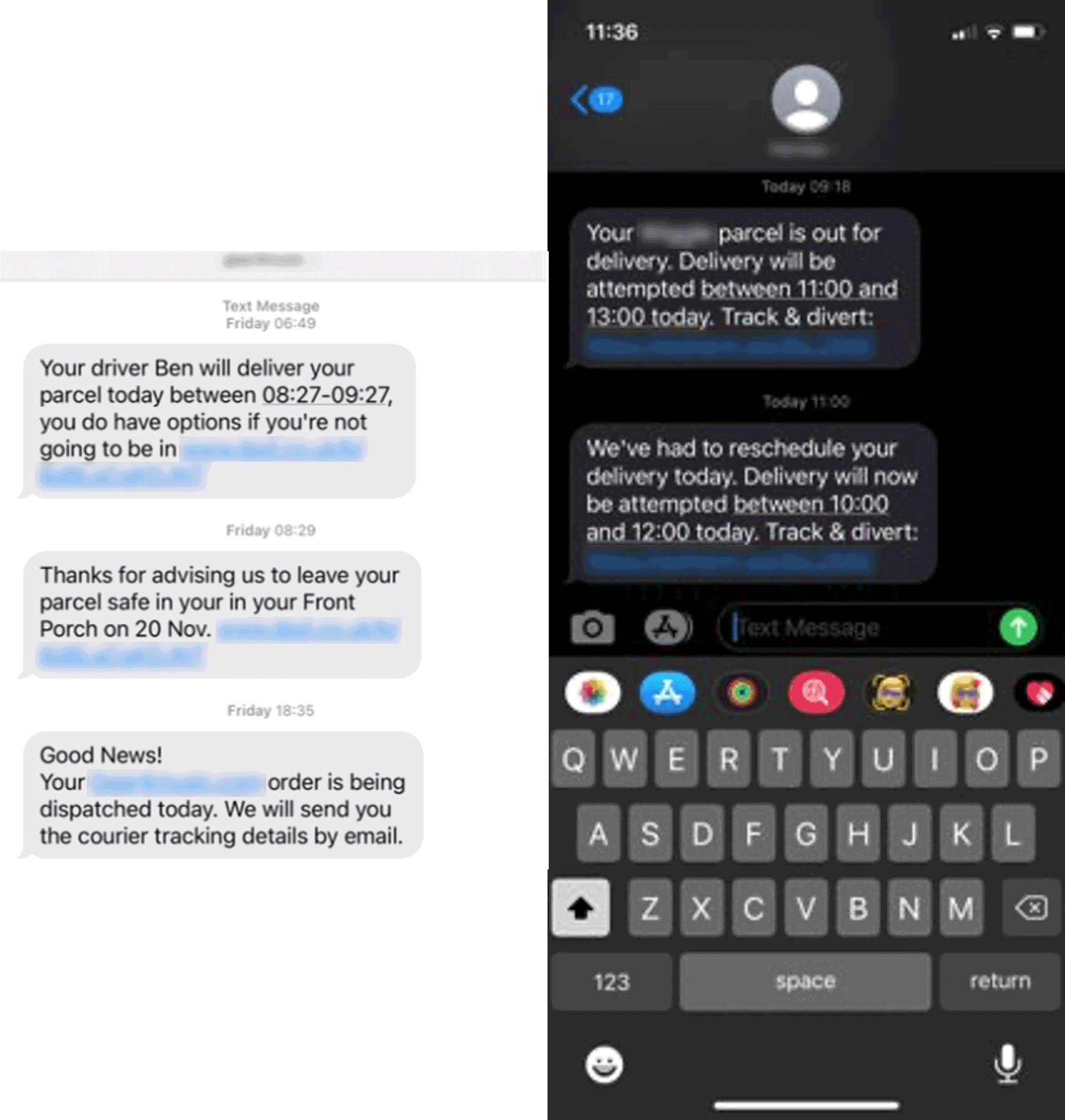 THE UGLY
Making customers work hard, for broken tracking
We found a number of retailers had complicated tracking journeys – different comms pointing to different links with different tracking and order numbers showing different updates. One example of this is where a fashion retailer asked us to head offsite to a carrier page, manually type in a long number – only for it to show no results.
Customers don't always expect you to stop things from going wrong, but they do expect you to let them know where things are up to. That's why it's the retailer's responsibility to ensure customers have sight of their parcel tracking at all times.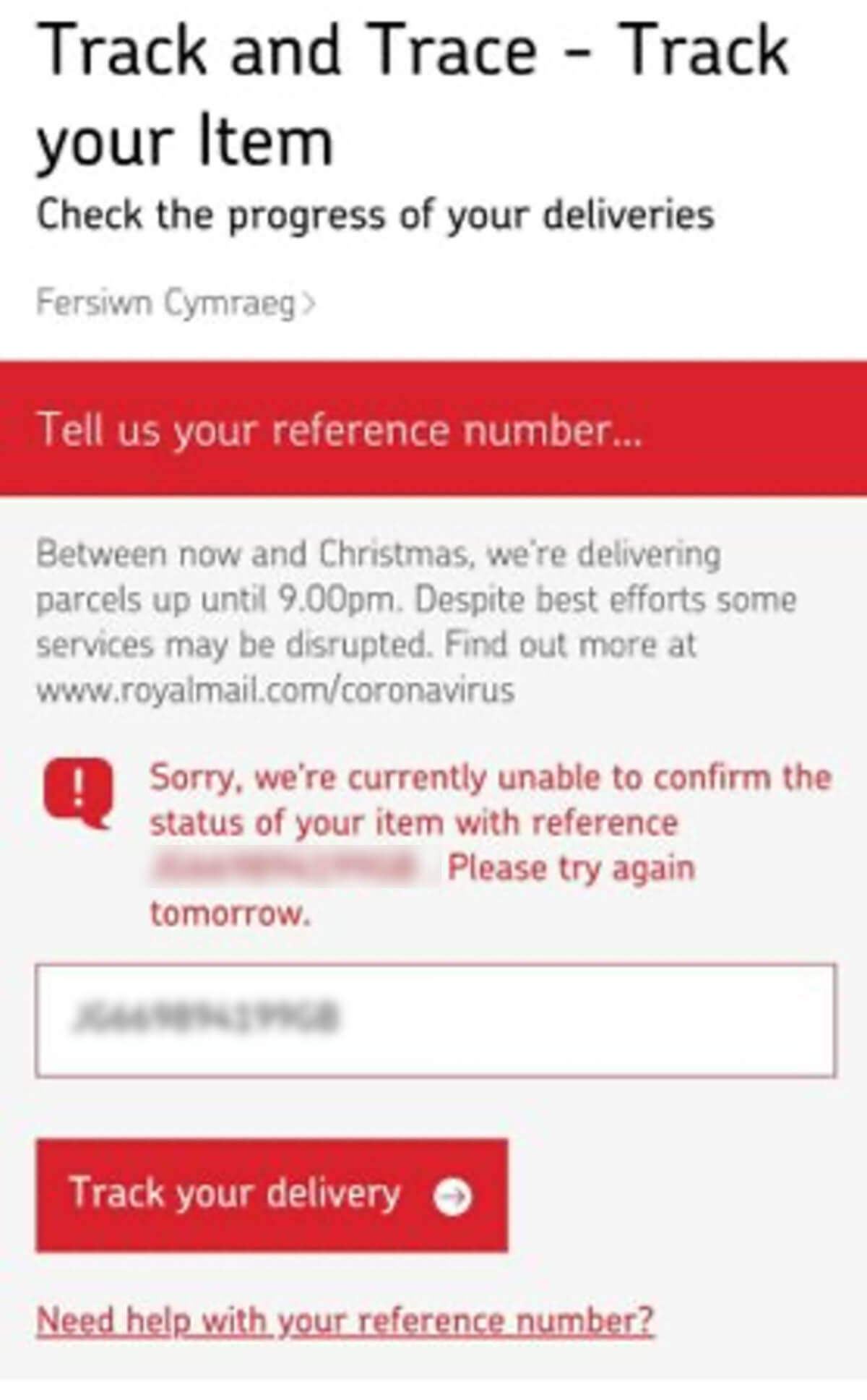 Leaving customers in the communications abyss
We shopped with one fashion retailer who had an exemplary purchase journey – with clear information throughout. After the buy button, confusing communications pointed us to a tracking page that had no order information – meaning we couldn't see the status of our delivery. When we dropped them a message through their customer service channels asking 'where is my order' (WISMO), an automated email informed us that customer service responses were delayed.
This is no doubt due to the huge influx of customer service contacts that retailers have seen throughout the pandemic and Brexit disruption. Some retailers are reporting an SLA of 3+ days before enquiry resolutions, so it's not unusual and it's very understandable that we had this response. The answer to our WISMO question actually came via email 36 hours later, from a very friendly and apologetic customer service agent. Of course, the whole exchange could've been avoided if timely, proactive delivery updates had pointed us to a working branded tracking page. Setting up post-purchase tracking software would ensure all the steps of the journey are connected.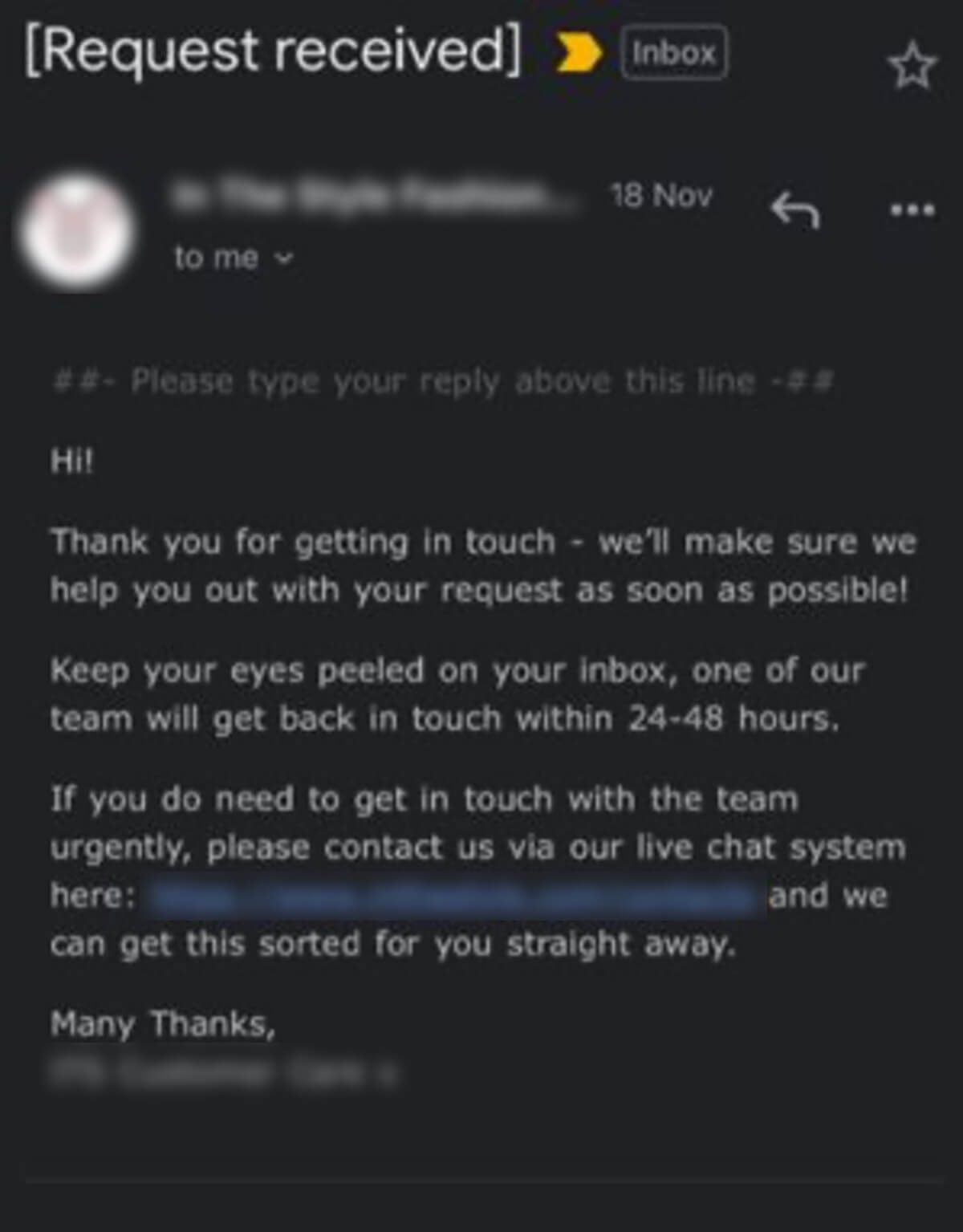 There's a lot to learn when you look at the way competitors, or simply other retailers, put together their customer journey. One consistent finding from our mystery shopping is that all post-purchase experiences have plus and minus points for customers; because every customer expects something completely different. This means that growing CSAT and NPS is tricky, but not impossible.
Book a demo with one of our experts today and they can walk through how our platform can improve your CSAT and NPS scores.