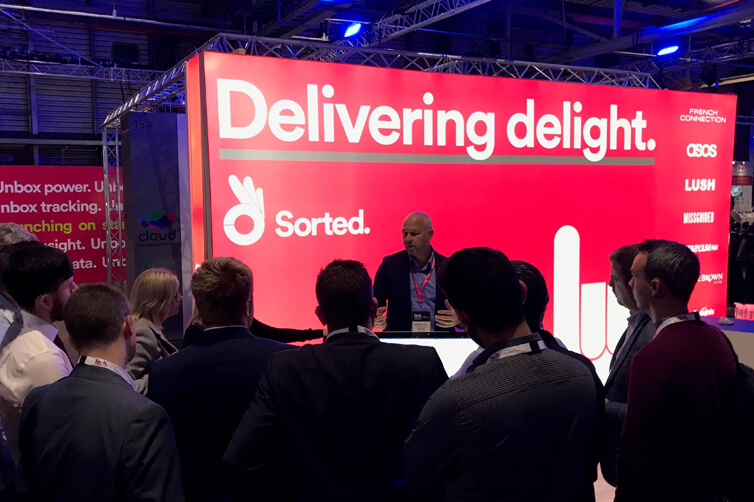 It's come around so fast. Last year was good, but this year is set to be bigger and better than ever.
On the 2nd and 3rd of October 2019, tech experts from across the retail industry (and beyond) will descend on the Printworks, London, for #RWTech. And, of course, we'll be there; stand 74 is the place to be.
All the exciting details for the full event can be found on the Retail Week Tech website. But, to make things nice and easy for you, here's the need-to-know-info on all the Sorted plans.
First things first. We're joined by two very special guests, who'll be having a 'fireside chat' with our very own Andy Hill (commercial director). We'll be on the Retail Reengineered stage for two separate sessions across the event, hosted by Retail Week's own Megan Dunsby. Here's the low down…
---
2ND OCT – 11:50 – 12:20
SHIP FROM SHOP: THE LOGISTICS BEHIND SERVING CUSTOMERS FROM 2,500 BOUTIQUES
The store of tomorrow is warped beyond all recognition, and its role in the customer journey has been completely reshaped too. The world is getting smaller, and consumer expectations are getting bigger. Retailers can either keep up or give up.
With a unique challenge on her hands, Lopes manages the products and teams that run the colossally complex supply chain for the world's biggest luxury fashion platform – Farfetch.
Sorted tech is unrivalled; powering checkouts, delivery management and parcel tracking for some of the biggest global retailers. So, Andy is the king when it comes to connecting the delivery dots.
This fireside chat picks apart the ship from store model, and reveals the secrets about the future of fulfilment.
Tatiana Lopes – Head of Supply Chain Products, Farfetch
Andy Hill – Commercial Director, Sorted
3RD OCT – 14:35 – 15:15
DIGITAL TRANSFORMATION DOESN'T EXIST
We're never going to actually complete it. It's not an achievable thing. We talk about it, but what does it actually mean?
It's a fictitious finish line that has retailers losing their heads when it comes to building strategies and plans. But if it's a journey, rather than a destination, who holds the map?
In this fireside chat, Paul and Andy discuss the right (and wrong) attitudes to have when it comes to 'digital transformation', the biggest scam to hit our industry in a generation.
Paul Martin – IT Director, Footasylum
Andy Hill – Commercial Director, Sorted
Next, let's talk about lunch.
We've got Sorted picnic benches scattered around the food areas, making sure there's loads of space to perch. Whether you're grabbing a bite to eat or quickly checking emails, there's a bright pink bench with your name on it.
Well, our name on it.
A super exclusive VIP lunch will also take place on 3rd October. A real meeting of minds, there's limited spaces at the roundtable, where we'll discuss 'the future of the supply chain'. If you want to join us, drop us a line at sales@sorted.com (although we can't guarantee there'll be any tickets left!).
The exact details of the Sorted stand is a closely guarded secret. But, we can reveal that we've got a space packed with comfy seats, charging ports, refreshments, really useful giveaways and friendly faces. Of course, we've got exclusive demos of our next-gen delivery tech too.
Oh, and bring your selfie sticks. We've got an instagrammable wall that you won't want to miss.
To save a few pennies. We've got a discount code that gets you 20% off the normal ticket price. Check it out…
---
If that discount isn't enough to convince you to attend (or you're already going and you don't want to miss anything), head over to the Sorted Twitter. We'll be sharing highlights from the two tech-packed days. Or, check out the #RWTech hashtag and join the conversation.
Fancy it? We'd love to see you there.
Let us know if you fancy grabbing a coffee; either before, during or after the event.  Or, just pop by stand 74, we'd love to have a chat about how you can do delivery differently.
---