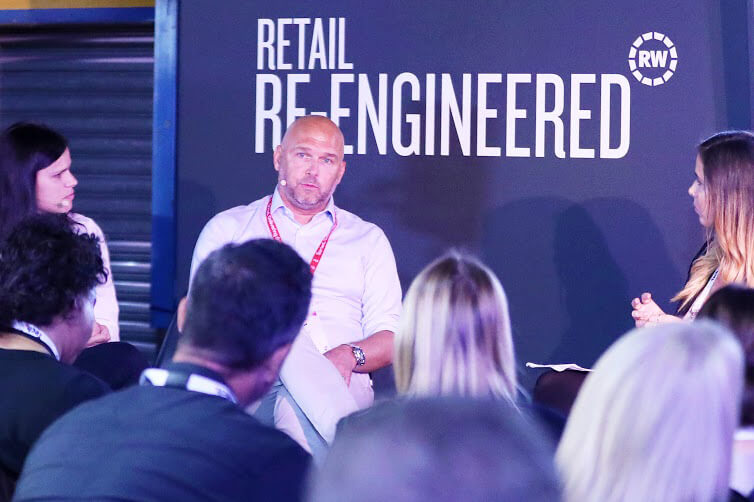 It's impossible to escape the phrase 'ship from store' at the moment. It's been bubbling for a while now, some have acted on it and some are just speaking about it. But the model has exploded over the last twelve months, in terms of the urgency (and nervousness) retailers are starting to feel about it. It's definitely on the buzzword bingo card for the industry. If you were at Tech, you'll know exactly what we mean.
One talk drilled into the topic like no other. Our very own Andy Hill (sales director) and the brilliant Tatiana Lopes (head of supply chain products, Farfetch) joined our friend Megan Dunsby (commercial content editor, Retail Week) on the Retail Re-engineered stage.
As the world's largest online luxury fashion marketplace, Farfetch serves customers from 2,500 boutiques worldwide. The ship from store model, at this scale, proves exactly how the store of tomorrow is being warped beyond all recognition, and how its role in the customer journey has been completely reshaped too.
Ready to pick apart these complexities, Tatiana began by stressing how vital it is that Farfetch understands the customer demands. "Retailers need to create a network that fits those needs. The needs of the individual shopper. For example, our customer no longer just wants speed, they want convenience – so there is no chance of missing a parcel."
Shipping to 192 countries, to over 10,000 people, is a challenging and exciting global operation, but Farfetch ensure their purchasing experience is personalised all the way to the customer's doorstep. Tatiana explained that "5 years ago, it was all about global commerce". Today, Farfetch are focusing on regional commerce – or "glocal" commerce – maintaining that all-important personalisation by altering the delivery experience to suit each different region wherever possible.
Further, Tatiana explained to Megan that being able to provide a larger delivery offering is what makes investment in the right tech suppliers all worth it. Andy echoed that this is a sentiment many brands are following.
"It can often be difficult for retailers to understand the needs of different customers, and then go about using in-house resource to onboard relevant carriers, upgrade their delivery option offering and run their customer delivery communications effectively. Partnerships let retailers do what they do best, whilst offloading the messy tech stuff to third-parties that have expertise in the dirty bits of fulfilment and delivery."
For the ship from store model specifically, stock availability and brand experience are crucial. "From the actual checkout, to getting confirmation of your order, to unwrapping the Farfetch tissue paper and reading the handwritten note, packed by the luxury retailer,", Tatiana says.
With such a huge network of partners (boutiques), Tatiana gave insight into how maximizing inventory means it's more effective to keep up with consumer demand. Andy explained that a huge part of successfully executing the ship from store programme, for any retailer, is about maximising store space as much as possible; turning each shop location into, essentially, a mini DC.
So, aside from ship from store, what else can we expect from the future of fulfilment? Well, as retailers continue to experiment with and test out this model, the pair believe that the customer's "buy anywhere" demand will continue to flood the industry.
Andy claims that, "Retailers and their delivery partners had mastered next-day delivery and click & collect 2 years ago, but the theme of 'not losing a sale', as well as your customer's instant gratification, remains a top priority."
Similarly, in Tatiana's opinion, a customer will appreciate a large delivery offering – but only if it means they get to decide the best, most convenient option at the checkout.
The session finished with Megan, Tatiana and Andy all encouraging the retail audience to "break the shackles on adoption". Because, although implementing a model like ship from store and evolving your delivery options may seem like a mammoth task to get right – the solutions are already out there. Perhaps the real digital transformation will happen when more retailers embrace tech suppliers and stop trying to down it on their own.
The session went down extremely well, it was certainly a highlight for us (and, we're told, quite a few other attendees too). Overall, Tech was a busy one this year. The agenda was absolutely packed with some of the most exciting names in the industry – both suppliers, innovators and retailers. As usual, it was a fantastic couple of days, and we've wrapped everything up in this handy list of best bits here.
---