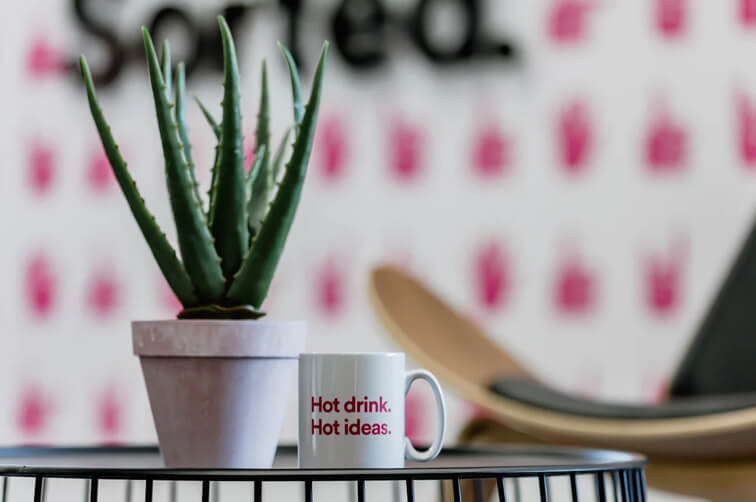 In our first-ever Sorted Spotlight, we spoke to one of our freshest faces, Darren Elliston, after his first week with us. A Manchester United fan and chocolate Hobnob enthusiast, Darren is our shiny, new Head of Global Support. He'll be leading our Support Team to glory – and making sure our service is world renowned.

When it comes to your first week at Sorted, we do our best to make sure you hit the ground running. So, we set up Darren's desk with all the Sorted swag he'd need for his first Monday morning with us – a notepad, pen, water bottle, a super high-tech umbrella – and, of course, a packet of his favourite biscuits.
SO, DARREN, FIRST THINGS FIRST. WHAT DID YOU HAVE FOR BREAKFAST THIS MORNING?
Just a coffee! My mornings are a bit of a whirlwind with 2 toddlers to manage, so grabbing a coffee is about the limit of what time allows! But I had a really nice breakfast on my first day here. I sat with the People Team and another two new starters in Albert's Kitchen, over an array of pastries. It was a nice, calm start to what could have been an otherwise daunting day – a great way to get to know people. Plus, I love croissants.
AFTER YOUR WHIRLWIND MORNING, WHICH OF OUR SORTED VALUES DO YOU RELATE TO MOST TODAY? (SMART, AGILE, BRAVE OR PRECISE.)
Well, I don't think I'd be here if I wasn't expressing all 4 of our brand values, so I've had a think about the 5 behaviours that make up the Sorted DNA [Innovate, collaborate, disrupt, inspire and anticipate]. Being a newbie, collaboration has been key for me. The willingness of the team to engage with me, share knowledge and answer my questions has been refreshing and really valuable.
WHAT'S BEEN THE BEST PART OF THE WEEK SO FAR?
Without sounding too cheesy, my first day was the best part. To finally get on board and start to absorb the "what, where, how and why". The inductions were so informative and I really got to understand the journey so far, over the two days of sessions. I learnt so much about the brand history, team structures and tech background. Oh, and having a couple afternoon drinks on Beer Fridge Friday was good too!
WHAT WAS IT ABOUT SORTED THAT MADE YOU WANT TO WORK FOR US?
I saw Sorted as an opportunity to use my skills to improve the frustrating delivery experience that everyone can relate to. Working in a new environment that will both challenge me and provide opportunities to grow personally, was also really appealing.
WHAT ARE YOU MOST LOOKING FORWARD TO IN YOUR FUTURE AT SORTED?
Developing our Support function into something that is truly world-class, and which our customers love to engage with.
HAVE THERE BEEN ANY SURPRISES SO FAR?
A pleasant surprise was that Sorted do seem to "walk the walk". During the recruitment process, there's obviously a degree of discussion around the culture of the company, and it's good to see that it's reflected in reality. In most interview processes, you get sold the dream culture. But as soon as I started here, it was clear to see just how hard-working everyone is – as well as how much fun they all have. I could see how well my team worked together throughout my first few days and I was raring to get stuck in. Then on the flip side of that, it was fun to take a break, play some pool and eat some cheese in Albert's Kitchen on Cheesy Tuesday.
WHAT DO YOU ENJOY DOING OUTSIDE OF WORK?
I'm a pilot and enjoy flying a light aircraft around the country (and sometimes beyond) when time and weather permits. It's a real form of escapism from the day-to-day and I love the challenge.
We're buzzing to have Darren in the team and can't wait to see what his future holds at Sorted. If the sound of Darren's first week has got you itching to work with us, you're in luck – we're hiring. We put more time and money into our people than anything else, because without our unstoppable team, there would be no Sorted. So, take a look at our openings or drop us a line – whether it's over the phone or over a coffee, we'd love to speak with you.
---