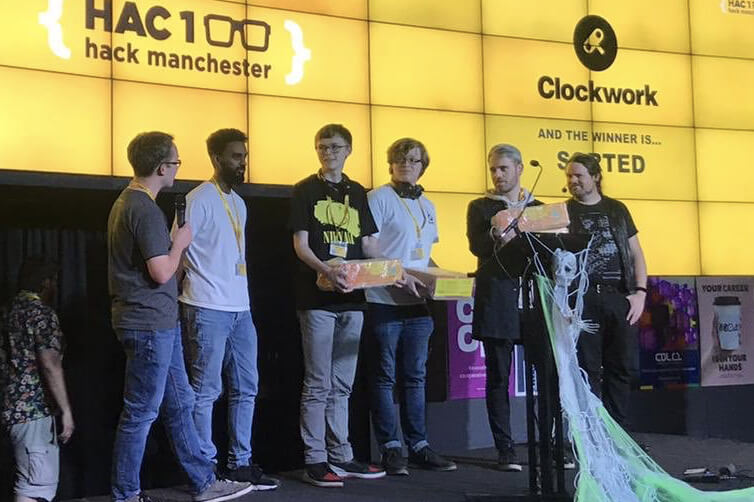 Although it's been a few weeks since the event on the 27th October, our unstoppable team are still on a winners' high – so we thought it would be a good time to look back on our time at Hack Manchester 2019.
Ran by HAC100, a not-for-profit organization, Hack Manchester 2019 was held in the Manchester Museum of Science and Industry – the perfect place for the region's techsperts to compete. The hackathon lasted for 25 hours, so there was loads of time to build something amazing. But these events require more than just coding – it's about communication, time-management, innovation and problem-solving skills.
We sponsored Hack Manchester this year, along with some other awesome names– Co-op Digital, Salford University, Artic Shores, Mongo DB, Auto Trader UK and many more. It's safe to say, between us all, we left the hackers with an awesome stash of merch.
Our Sorted boys really did us proud this year, bringing home the trophy – or, 3D printer actually – for the Clockwork SMS challenge. The team absolutely powered through over those Redbull-fuelled 25 hours. But it all paid off. Back here in the office, we were blown away with our team's inspirational and innovative solution.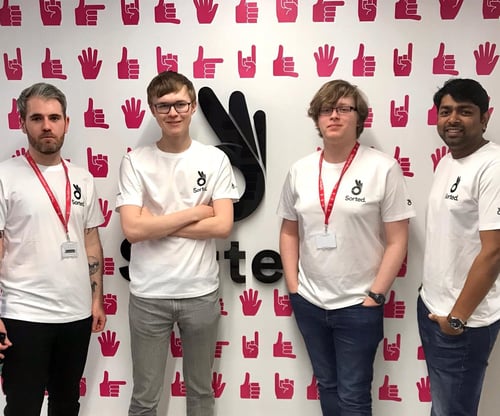 THE TEAM:
Tim Potter – Lead Carrier Analyst
Skylar Gill – Junior .NET Developer
Norton Gill – Junior BA
Murali Pushpakaran – .NET Developer
THE BRIEF:
9.8% of adults in Greater Manchester have a long-term health condition or disability that significantly impairs their everyday lives (NHS Manchester).
Using Clockwork's API, find a way that SMS can be used to improve the lives of people suffering with such conditions.
THE SOLUTION:
Meet Mubli; an SMS transport assistant, integrating with Clockwork to help people with disabilities navigate rail transport within Greater Manchester.
THE RESULT:
Mubli and Team Sorted won the Clockwork SMS challenge.
And here's how they did it…
Our Junior BA, Norton, tells us that Mubli wasn't miles away from the team's very first original concept. They started the hack by doing some deep thinking and choosing to focus on rail.
With some further research, our team discovered some of the daily challenges that the target audience face. The main issue was that people with disabilities have a real lack of access to information – especially when the traveller can't simply go online to find out what they need to know, such as whether there are ramps at a station, for example. So, after strides forward, sideways and, occasionally, backwards – some gov.uk research led them to realise that their solution needed to be a conversational bot, as people on the go are more likely to have phone signal than internet access. SMS is completely accessible, so the fact that Mubli doesn't require internet access is a bonus – users can conversationally ask about particular stations and receive active alerts ahead of, or during, their journey.
Maybe our boys' sleep deprivation led to them getting more creative? Or just delirious. Either way, we have to credit their awesome teamwork. We attribute their success to regular meetings and catchups throughout the event – with (apparently) no arguments to stop them from constantly moving and changing. And as they had such a mixture of skillsets, it meant they all saw the problem from a different perspective. Our Junior .NET Developer, Skylar, also explained that, as the hack went on into the wee hours, it was their tech stack that really caught the judges' attention. Their build pipeline meant that it was planned like a real project, and their service bus allowed the team to queue up queries. So, as you text the bot, your alerts go into a queue – and the solution is completely scalable. But they had to be pragmatic about things. 25 hours is a long time to stay awake (even with coffee on tap, thanks @AncoatsCoffeeCo), but there's still a limit on what features you can add to a fully functioning chatbot. Murali, our .NET developer, was fixed with what he was doing on the backend for the duration of the hack. This meant the team didn't have time to include features like a Google Maps integration – but they see this kind of thing in Mubli's future.
Now, the potential for the product means that, in the future, Mubli could integrate deeper with National Rail or Trainline. Norton explained that, if they put it in a nicer place code-wise and open-sourced the chatbot, they would love to address Clockwork for them to market it. This way, people can build on Mubli and add new features – like booking tickets and giving users the ability to give advance warning of their needs. This might also be helped by the fact that it's ready for market – after Norton worked so hard on Mubli's incredible branding and promotional video. It's hard to believe these guys only had 25 hours.
Out of the 50 teams competing, it was noted that Sorted were the only team to meet the brief in terms of input and output, as well as being able to help people day to day. After all, the teams weren't being judged on the tech alone – it was all about solving a problem. So, we're dead proud of our Sorted sorts for approaching the problem from a human perspective, with tech magic, and presenting a fully-fledged solution.
From the initial research phase right at the beginning to a night of coding and creating, it was amazing to see that on day two, Mubli had evolved into the finished product. (Team Sorted still managed to have a few beers at the awards ceremony – that's true resilience).
A huge well done to all the challenge winners and teams that took part. It was super inspiring to see each different approach and solution – we can't wait to do it all again next year.
---