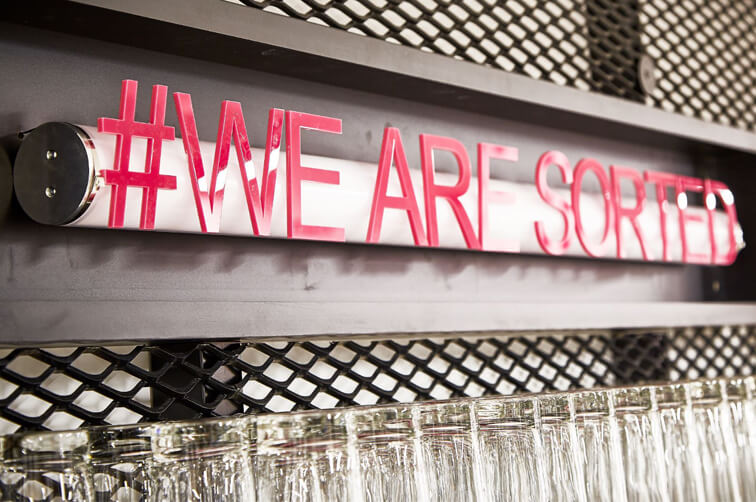 As this non-stop 2019 comes to a close, we're toasting a landmark year for Sorted.
This year we've seen huge change across the business – from our unstoppable team growth, to our client base increasing by 200%. But, the cherry on top of this whirlwind of a cake, has to be the news that we've just hit the £1billion shipment mark.
Since we began our journey and onboarded our first clients just three years ago, our industry-leading tech has allowed us to cultivate an impressive roster of clients – including fashion ecommerce giant, ASOS. As part of their exciting global expansion strategy, ASOS chose to partner with us to help them build and future-proof their ecommerce empire (and get some cost-savings along the way).
Our partnership is helping them scale without friction – as our clever tech does the leg work for a large percentage of their distribution centre delivery management in the UK. We make sure our team brings the behind-the-scenes tech brilliance, which lets the ASOS team focus on the exciting growth stuff.
And the fun doesn't stop there. We're officially the secret weapon for some other huge names too, as Mulberry and Homebase join the Sorted family.
Operating in 120 stores and 20 countries, we're so pleased to welcome Mulberry into our ranks. Sorted tech will further drive their international growth and improve web conversions. Our reliable DC operations dashboard, SortedPRO, will unify the Mulberry order processing system and completely transform the delivery offering with more carriers and services – providing their customers with unrivalled convenience.
Our tech will also be powering Homebase's direct ecommerce orders – fulfilling their requirements of improving shipping, warehouse efficiency and customer experience. What an awesome project.
Aside from the client wins, we've managed to score a few award wins this year too. GP Bullhound named us as one of the UK's fastest-scaling tech firms. Plus, we've also scooped key industry accolades including Best eCommerce Business at the inaugural MEN Tech Awards this summer, as well as Best eCommerce Platform at the Northern eCommerce Awards in October.
All this excitement has meant that we've been rushed off our feet pretty much all year, but we wouldn't have it any other way. We've been up and down the country and back again for Retail Week Live and Tech – where Sorted pink covered every corner of each event. We raised an incredible £15m Series B funding to aid our exciting new growth plans. And of course, we celebrated all our hard work and success in true Sorted style, with a glorious Family Fun Day in the summer, the sparkliest Christmas do you've ever seen – all finished off with an exquisite festive feast with our entire Sorted family.
What, you think that's all we've packed into the year? When they're not slogging over carrier integrations and client onboarding, 4 of our incredibly talented techies obliterated all our expectations by bringing home the trophy at the recent Hack Manchester coding competition. In just 24 hours, they developed an SMS transport assistant to help disabled people navigate the rail network here in Greater Manchester.
It's that talent and determination from our unstoppable team has helped Sorted to become a global delivery experience powerhouse, shipping goods to the value of £1.3billion to 171 countries worldwide.
There's no sign of a slow down, either. The recent Black Friday and Cyber Monday shopping days saw record volumes – 66% higher than the previous week – going through the platform – with no dip in service for clients. In total, the first week of December this year saw parcel volumes smash the record of previous years by up to 97%.
Our very own CEO and Founder, David Grimes, had a few words to say about our most triumphant year so far: "We've had a tremendous 2019 at Sorted.
"Adding ASOS to our ever-expanding roster of clients alongside the likes of Missguided, Farfetch, French Connection and FatFace shows that our delivery technology is trusted by some of the planet's biggest retailers.
"Consumer expectations have never been higher than they are now. And by constantly refining and driving innovation in the delivery experience sector we are becoming retailers' secret weapon of choice.
"Hitting the £1billion milestone of goods shipped is a great testament to the drive and dedication of our workforce who are constantly striving to ensure Sorted remain best in class."
So, that's a wrap on 2019. And what a year it's been.
Alongside our brilliant clients and carrier partners, we've taken some big, bold steps in the last 12 months. And, the results? Huge moves towards changing an industry. Because what is there to do, if we can't completely exceed customer expectations? Benchmark, smenchmark; that's what we always say.
---