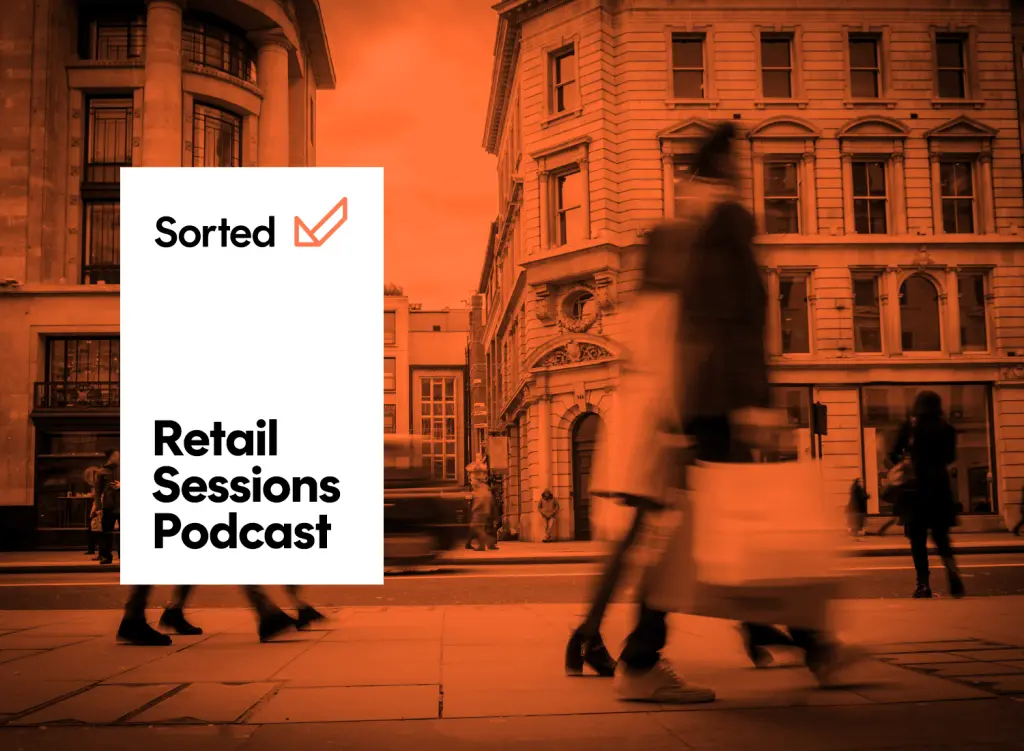 When we launched the Sorted Retail Sessions podcast back in November 2020, the retail industry (and the wider world) was facing more disruption and uncertainty than ever before. Approaching Brexit deadlines, the first pandemic peak trading period, an ongoing hangover of H1 lockdowns and the looming threat of the inevitable winter wave of infections… 'unprecedented' was an over-used, but extremely fitting, description.
The podcast quickly became a hub of discussion and learning. We gathered guests for every corner of the retail industry, to share knowledge, tips and opinion about the changing state of the sector – and the lessons and learnings are still as relevant and rewarding as they were when they were released.
So, as we draw the first series of the Sorted Retail Sessions to a close, here are some of the key takeaways and unmissable moments from the 11 episodes so far.
---
1. Chris Haighton, Head of Outbound Logistics at the Very Group, discussing how they coped with surges
---
With impressive post-pandemic results, chatting to Chris Haighton was an eye-opener. Here, Chris comments on the surges in supply chain operations, and how the Very team maintained CX throughout.
2. True reflections on how to measure customer experience in the warehouse
---
This was a topic discussed by many guests – including Chris Haighton, who talked about the role that logistics teams have to play in customer loyalty and satisfaction. Sorted's very own Edward Osborne (previously at Wayfair, John Lewis, Waitrose and MATCHESFASHION, to name a few) shares some of his experience building CX measures and metrics for the dropship and supply chain at Tesco.
3. A different perspective on how much retailers should actually listen to customers
Yes, everyone agrees that customer feedback is important. But is the customer always right?
Throughout the podcast series, there are a number of views on just how much the customer knows about what they want… and whether retailers should base customer journey and transformation decisions on data, feedback, behavior, or other insight.
---
With neuromarketing being focused on the way the brain works, it's less susceptible to bias than other forms of market research. It gives you a set of tools to further understand your customers and increase your chances of success.
– Steven Cozens, Co-founder of Think Beyond
I think we always need to listen to what customers are asking for in the future, But, equally, I always think back to Henry Ford. Because if he had asked the customers what they wanted, they would've said a faster horse.
– Edward Osborne, Director of Carrier Services at Sorted
4. The introduction of the lazy brain, by consultant and neuromarketing expert Steven Cozens
---
An absolute gold mine for any retailers interesting in brand and consumer psychology, Steven talks us through the cognitive pathways that are forged when shoppers do their shopping online. Check out the episode full write up here. In this clip, Steven gives Dan, Sorted's Marketing Director, our favourite CX quote of the series: the brain is the ultimate slouch.
5. Customer experience meeting customer expectations
Of course, customer experience was a reoccuring theme throughout the podcast series – by far the hottest topic on the lips of our experts.
Johnathan Beirne, Head of Customer at musicMagpie, shared his view on how customer experience needs to keep up with customer expectations.
---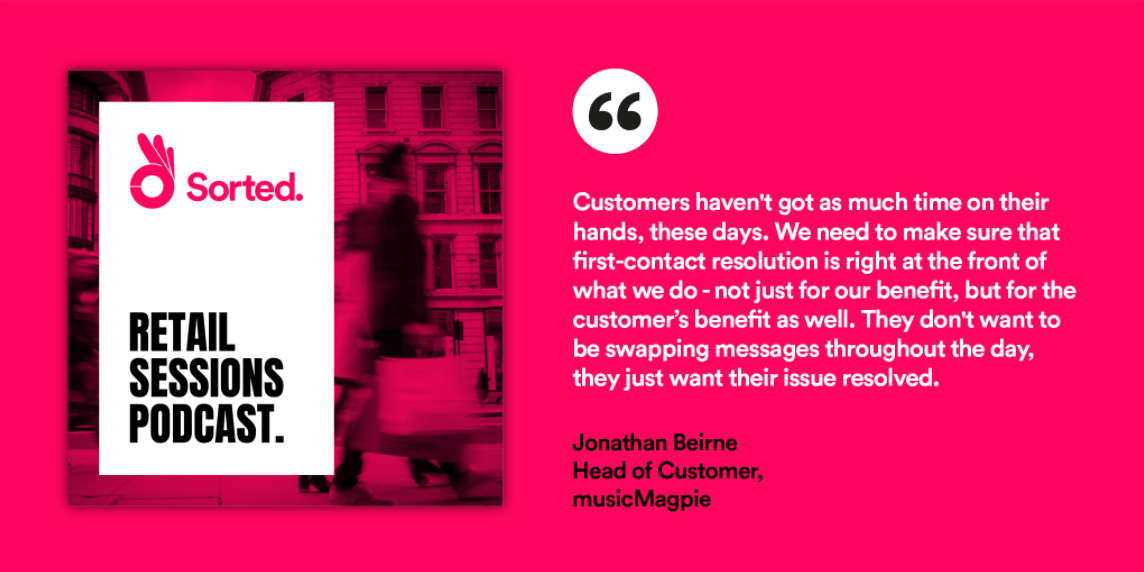 6. The trade off between sustainability and CX
---
Paack, a tech-driven carrier with sustainability at the core of the business, would naturally be the guest with the most insight and opinion on the state of the sector's green efforts. And James, General Manager UK, did not hold back on the gripping discussion: sustainability is synonymous with optimisation.
7. High street purpose and the death of 'omnichannel'
The brilliant Miya Knights wrote the book on omnichannel commerce, quite literally. In our podcast episode, she discussed what that means for the 'new world', and how store estates need to change to accommodate digitally native shoppers.
---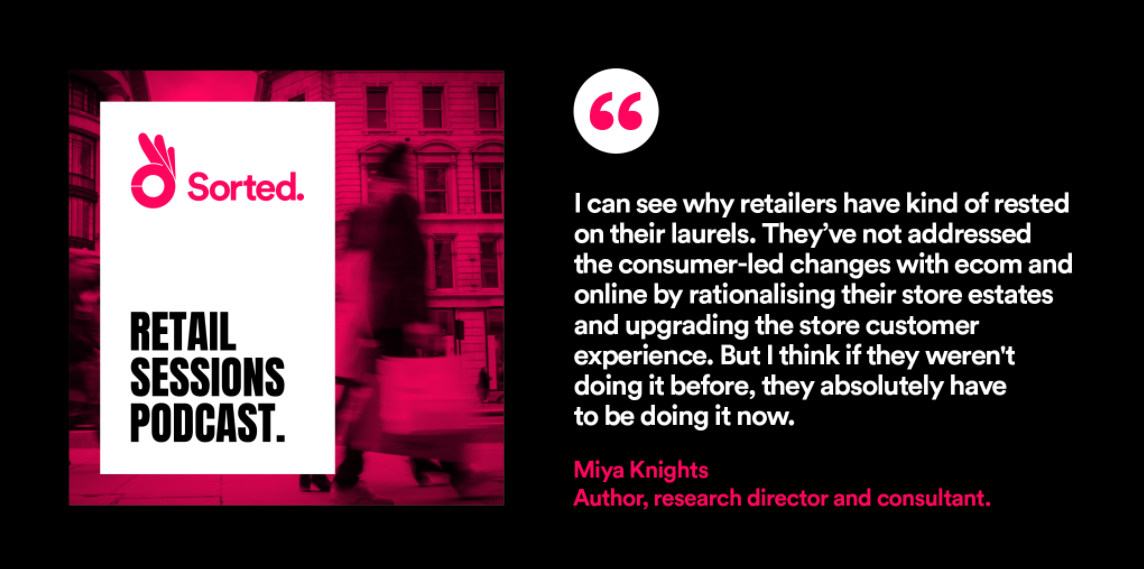 Chris Brook-Carter also shared some stats, facts and opinions on what the government can do to help retailers plan their physical and online space in the future. Plus, he discussed how high street trends have accelerated during the pandemic, rather than started from scratch.
---
8. An insider insight on the importance of mental health provision in the retail industry
---
Julia Dietz, Operations Director at Party Delights, told us about the importance of building a team you can trust, and how looking after your staff and being open and honest is one of the ways their business managed to stay agile throughout the disruption.
Chatting to the CEO of retailTRUST, Chris Brook-Carter, gave us a unique view of the impact the pandemic has had on those working in the retail sector.
9. EU distribution centres… from both a retailer and a cross-border specialist
---
After lockdowns forced fulfilment centre moves into Europe, Julia Dietz shared an interesting perspective on running delivery operations from multiple international locations.
And the discussion around European supply chain disruption with Jonathan Simons at Landmark Global covered how retail models are under scrutiny now the Brexit trade deals are in play. Watch the clip here.
10. A lesson on importing and exporting a bendy mouse, from Gill Holloway (Operations Director at Insight)
---
As an expert on Brexit, tariffs and IT supply chain, Gill Holloway's podcast episode was a really honest look at how Insight kept calm and carried on innovating right through the last 12 months. Here, Gill demonstrates some complexities and challenges being felt by retailers, carriers and consumers alike.
Keep your eyes peeled for series two of the Sorted Retail Sessions podcast – sign up to our newsletter to be the first to hear about new episodes.
Don't forget… every episode of the Sorted Retail Sessions is available to listen to on demand…
---