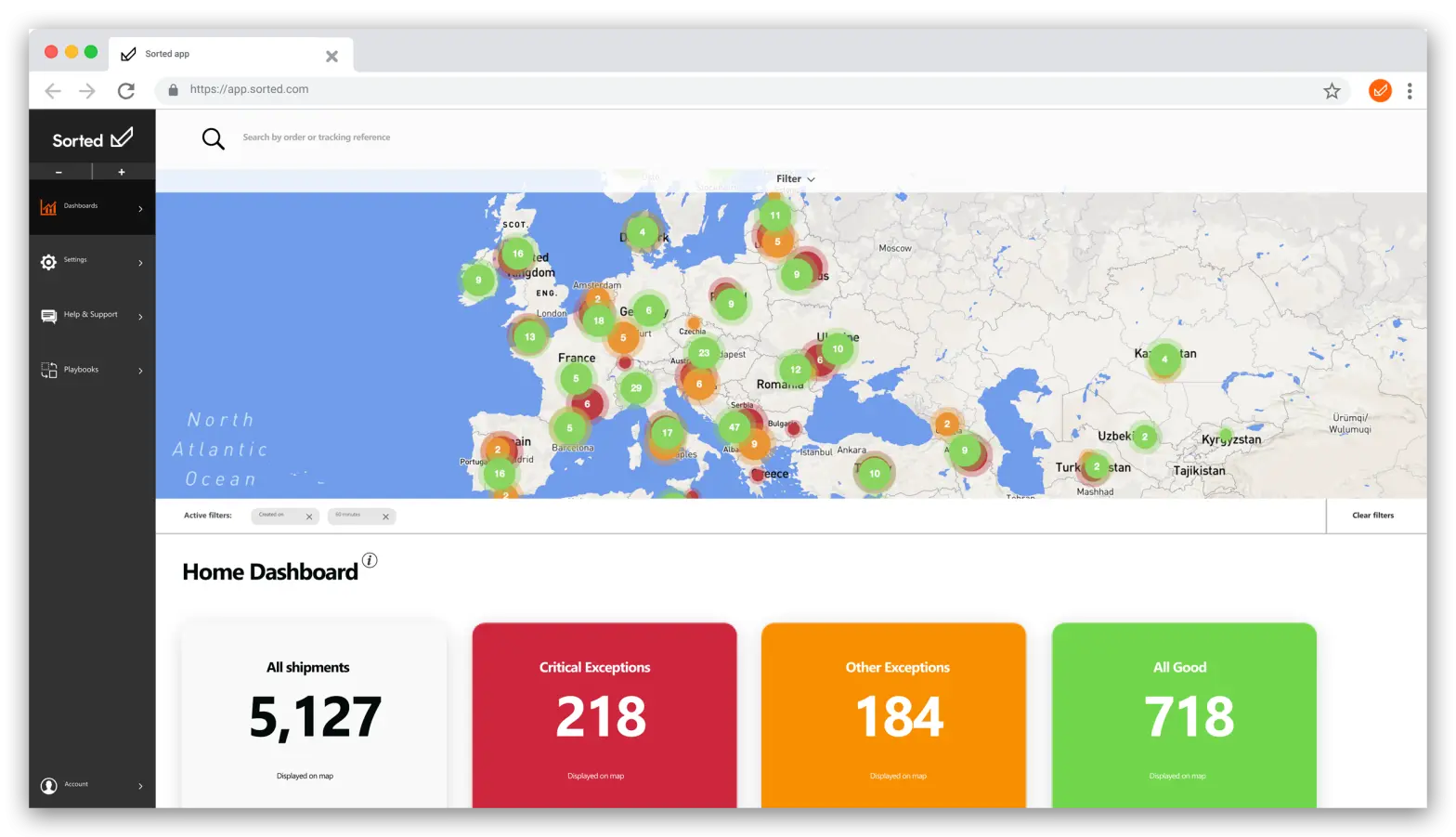 What is SortedREACT?
SortedREACT gives your customers and teams the delivery and returns insight they need. When they need it. Where they want it.
Retailers and brands use SortedREACT to automate tracking and post-purchase communications to reduce customer contacts, increase brand engagement and boost CSAT and NPS. Find out more here.
With one in three people saying that receiving a parcel is the highlight of their day, and 87% of customers stating tracking is important to them, it's clear that delivery is topping the list for driving customer happiness in 2021.
With this in mind, here's a short blog post covering the latest ways our unstoppable clients are using SortedREACT to make their post-purchase experience 5*.
1. A 5* POST-PURCHASE EXPERIENCE ISN'T JUST FOR CONSUMERS! IT'S FOR INTERNAL TEAMS AND B2B CUSTOMERS TOO.
When we think about the benefits of post-purchase tracking software we often head straight to the consumer experience – think immersive, fully branded tracking pages, embeddable in app tracking, and SMS and email communications and notifications. However, the internal and B2B experiences are just as important…
Internal Teams – including Customer Service (CS), contact centre, Customer Experience (CX) and Logistics
Recently, some of our clients in the drop-ship world have given us some serious metadata inspiration. Metadata can be used to categorise and filter anything in REACT, as properties are completely customisable.
If you're drop-shipping for a retailer, being able to categorise based on your clients can be a great way of ensuring you stay on top of delivery performance, take proactive action on issue resolution and hit your contracted SLAs.
If you're the client of a drop-ship vendor, it's great to be able to categorise by supplier to monitor your suppliers' delivery performance and take proactive action on issues when required.
This drill-down ability coupled with our CS-friendly dashboards mean that your teams are always up to date, and able to proactively handle any issues before they reach your customers. REACT is designed to give you complete control over your post-purchase experience and the bits your customers don't see are just as critical for keeping those NPS and CSAT scores high.
B2B
Brand experience and building trust are just as important in the B2B world as the B2C one. At the end of the day you're still selling to people. In the words of one of our clients: 'Corporate or public sector now want at least as good a delivery experience as consumers.' 
Providing fully branded tracking pages to your B2B customers drives brand engagement and lets you own your delivery experience.
---
In the words of one of our clients: 'Corporate or public sector now want at least as good a delivery experience as consumers.'
Key takeaway: REACT features in reality…
We've added signature functionality as an option for our tracking pages. This is useful for office-based B2B customers, as it's easy to see who in the building has signed for your parcel without running around to hunt it down. Plus, when it comes to invoicing time, you'll know whether the items have definitely been received – and who by.
2. SAVING MONEY THROUGH CHEAPER COMMS RATES…
Using your post-purchase software provider's existing communications partnerships can mean big savings for you.
---
Retailers and brands can use REACT to send SMS or emails or can negotiate their own rates and use webhooks to trigger communications in real-time, ensuring your customers are kept fully informed on delivery progress.
---
Key takeaway: REACT features in reality…
One of our new clients recently reported a 50% saving per SMS when they switched from carrier communications.
Also, we recently launched some additional webhook reporting to give you total visibility of your data transfer.
3. CUSTOMER DELIVERY FEEDBACK DOESN'T HAVE TO BE COMPLEX
Whether you want to collect feedback on your delivery related communications, or on the actual delivery there's hundreds of options out there for customer feedback and insight; from simple survey tools, to social listening, to enterprise platforms designed to support company-wide voice of the customer programmes. If you have a sophisticated customer feedback set-up, and are using in-app or chat feedback tools, it makes sense to use an embeddable tracking API. This keeps customers within your app, driving adoption and keeping your feedback and tracking aligned.
---
Key takeaway: REACT features in reality…
Some of our clients have been making the most of our email templates by incorporating feedback into their REACT-sent emails. It's as simple as including a link in the HTML template.
Interested in which emails are working best? A / B testing is super simple with REACT's completely flexible email template with open rates, link tracking and more.
---
4. ENHANCED DELIVERY PERFORMANCE.
Imagine being able to see digestible customer promise visualisations, at the click of a button. These reports allow you to access your delivery performance data; covering 'promise met' versus 'not met' metrics, 'delivery early', 'on time', or 'after promise date'… and lots more.
---
Key takeaway: REACT features in reality…
We've just added to REACT's reporting suite allowing you to dig deeper into your historical data to look for key performance trends. Clients are using this in loads of ways – from drilling-down into delivery performance and communications sent, to webhook success.
5. FASTER REFUNDS.
What's post-purchase tracking software got to do with faster refunds? According to our clients: a lot.
Having the ability to track a shipment as soon as a return is on its way back to you means you can offer your customers that refund immediately, making your returns process smoother and keeping your delivery experience high. There are lots of ways to handle faster refunds – for example simply using a webhook to automate your refund process as soon as your parcel is in the hands of your carrier or collection partner.
---
Key takeaway: REACT features in reality…
Some clients are trialling Royal Mail's new Parcel Collect service, and are tracking it back to the warehouse every step of the way – simplifying that return journey.
If you'd like to know more about your options for post-purchase tracking software, check out this blog here.
If you're interested in SortedREACT, you can find our product info here or get in touch to have a chat with one of our delivery experience experts.
---