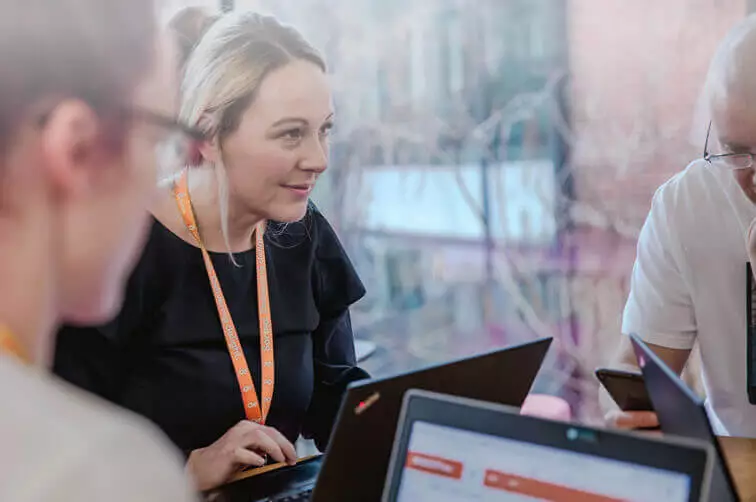 Taking the plunge and buying new delivery experience software is exciting. Naturally, a high-profile project of this sort brings with it a requirement to commit time, resource and budget – on the side of the supplier and you and your team. This is where collaboration, communication and partnership is really key.
Before a project is kicked off, and those commitments made on both sides, it's crucial to fully understand your chosen platform and the onboarding process. At Sorted, we've made our Onboarding Guide freely available, to give both clients and potential clients a starting point when it comes to getting growing with our software.
Likelihood is, there's a whole host of 'behind-the-scenes' bodies helping to get you set up and sorted, depending on your requirements – but regardless of size and shape, there are a few faces and trusted guides that everyone is likely to meet…
1. SALES & TECHNICAL PRE-SALES TEAM
Very often the first faces you'll meet at any company, the sales function acts as the frontline for those initial conversations, discovery calls and contract negotiations. They're the ones who will get to know your business and help figure out what solutions you need.
The Sorted Sales team is the friendliest bunch of retail tech nerds you'll ever meet.
When you're in the final stages of selecting a solution, the Pre-Sales team will work tirelessly to figure out exactly how the partnership will work, on a technical level. Looking at set up, configuration and data, they'll get into the nitty gritty of the partnership and understand how best to get you up and running.
2. PROJECT MANAGER
Taking the reins on any custom work, the dedicated PM will act as go-between for you and your supplier's tech teams. Being super organised and on the ball is just all part of the remit for the PM, and they often act as point of contact for any snags that might come along with more complex, tailored integrations.
3. THE CONFIGURATION TEAM
These people are the ones who will be there to make sure everything is set up, ready to go and off to a flying start. As the team running your onboarding and configuration day, they're there to help and train right from the start. Then, when you're up and running, they're the folks who will be behind the scenes helping get you set up with new carriers, services or in-life maintenance.
4. PRODUCT AND TECH EXPERTS
The product managers and techies doing the coding and the wiring in the back end, making sure the product offering is everything it needs to be. These are the guys who will build any custom configurations and make sure everything is tested and running smoothly. You can meet our team here, if you'd like to get to know the ugly mugs working under the bonnet of our post-purchase tracking software.
5. THE SUPPORT TEAM
No-one likes to think about things going wrong but it's important to know who to call when those minor hiccups sometimes occur in large-scale IT projects. Having a 24/7, 365 service desk is the sign of a stable and supportive provider – so having the reassurance is peace of mind, in case you ever need it.
Our Service Desk team are the go-to when it comes to technical queries and questions (or if you're looking for advice on flying a plane… they're a multi-talented bunch).
6. CLIENT SUCCESS TEAM
Having a one-to-one contact is invaluable, which is why being assigned a CSM is important for delivery experience software. This team will assist with any teething problems, change requests and renewals – as well as being on hand to support and train if you need a refresher on how to get the best out of your software.
So whether you're looking to load new tech into your checkout, carrier and shipping operations or even post-purchase tracking – knowing the onboarding team, and process, as early as possible is one way to ensure that all the dots are connected.
---