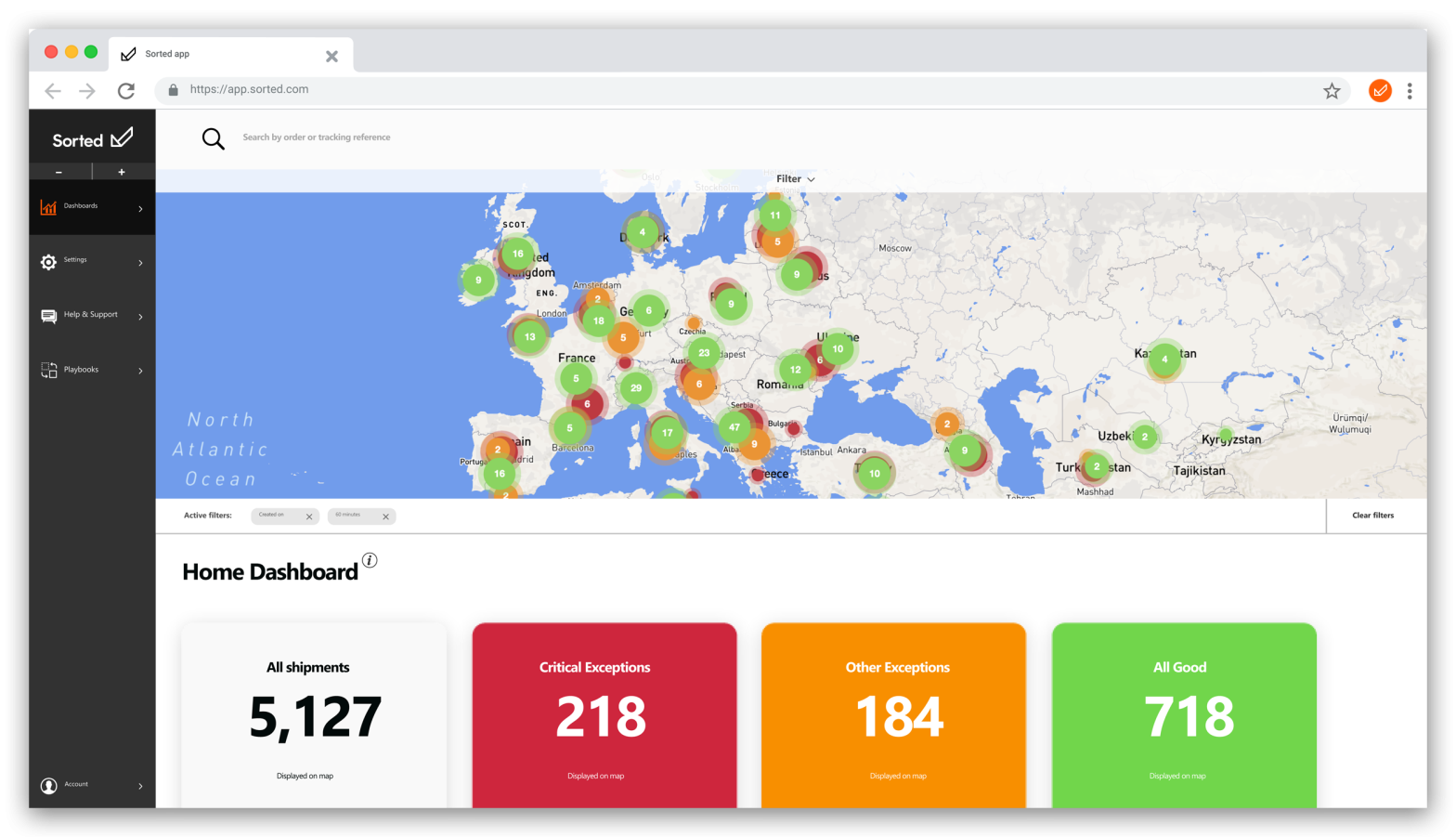 It's clear the boom in ecommerce isn't going anywhere, with Gartner predicting that global parcel delivery volumes are set to grow by more than 100% over the next three years. Brands and retailers are competing more fiercely than ever; and we're now seeing market leaders find creative ways to fully connect the delivery experience, for both their teams and their customers.
With this in mind, we've collated the latest REACT tips, tricks and use cases straight from our community of retailers and brands.
---
What is SortedREACT?
SortedREACT gives your customers and your teams the delivery or returns insight they need, in their channel or location of choice. Helping you create 5* post-purchase experiences that keep your customers coming back every time. Watch the explainer here.
1. FASTER ONBOARDING. YOUR WAY.
To keep competitive edge and quickly realise the benefits of new tech, it's no surprise that a lot rests on onboarding. Retailers and brands should know how quickly they can get up and running, and what it will cost in time, money and resource.
SaaS tech providers should always provide public technical documentation, to ensure the retailer has completely transparent access to all the information needed for speedy, streamlined onboarding. However, speed alone is not enough. And not every retailer will start the project with a harmonious tech stack (in fact, very few do).
For large, global organisations, an onboarding or integration method that works for one country may not work as well for another, or you might want to roll out or test in other markets later.
We're hearing more and more that configurability is key, and retailers and brands want to be able to choose an onboarding path that is not only fast but that works best for them and their IT estate.
---
Key takeaway: REACT features in reality…
Registering shipments is a key step in your REACT onboarding journey. It's how we make sure we get all the right data from you and your carriers, so we can receive timely updates on your parcels and power your chosen REACT features. For example, aside from the standard tracking reference, you might want to use metadata to pass product or order confirmation number info to REACT for use in email comms.
We've recently added functionality to support the registering of shipments via email. This onboarding option is one of four for registering shipments; other options include API, SFTP or SortedPRO (for our carrier and delivery management customers).
---
2. DRIVING DIGITAL ENGAGEMENT WITH PERSONALISED DELIVERY TRACKING.
80% of customers now want personalisation. That's huge.
Retailers and brands everywhere are looking to build immersive experiences.
If the hardest part has been done, and the customer clicks the buy button, why wave that customer off into the sunset by handing them over to the carrier and hoping for the best? Tracking and delivery updates are critical touchpoints for building customer loyalty and brand affinity. And this should be when your customer is fully immersed in your brand.
Retailers use REACT's multi-parcel branded tracking pages to drive digital engagement and promote upsell, whilst giving their customers the delivery or returns insight they need (and expect… 82% of customers expect tracking to come from the seller according to IMRG).
The pages are completely configurable, in your language and tone of voice, and can be set up in minutes – no coding required. Create as many as you need to personalise for different target customer segments. Take a look at the example below.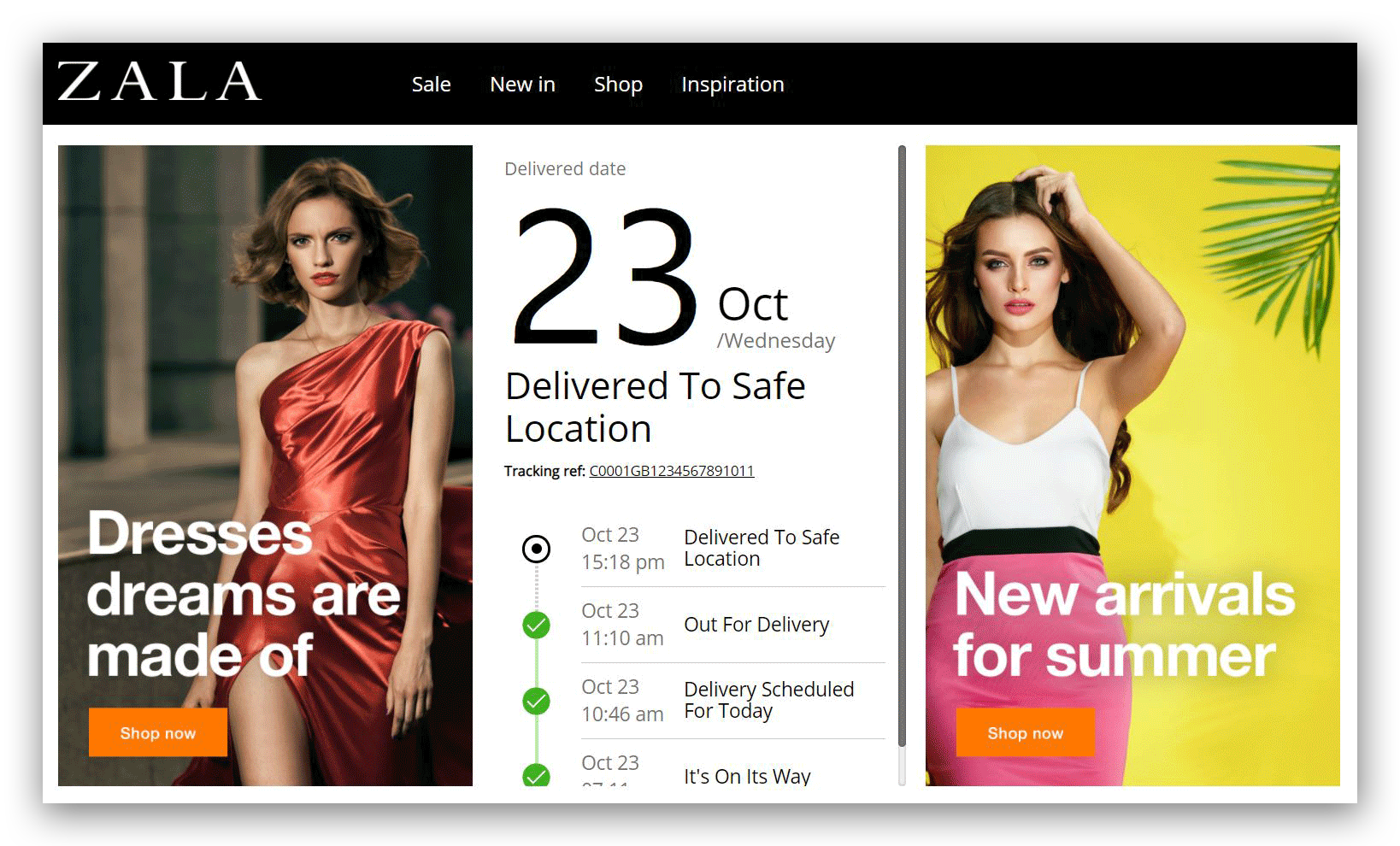 ---
Key takeaway: REACT features in reality…
REACT's branded tracking pages support custom domain, and can be used to drive traffic back to your website. Recently, a REACT customer chose to link to the tracking page from their 'MyOrder' account page – making it easier than ever to keep customers informed, whilst keeping them in a fully branded experience.
Not only do these branded tracking timelines satisfy customer need, they've also been shown to boost mobile click through rate by as much as 83%.
To drive engagement and keep customers sticky in an increasingly competitive landscape, our retailers can send branded comms through REACT's email and SMS partners, or by making use of webhooks to trigger comms through their existing platforms. With transactional email open rates sitting as high as 90% according to Shopify, you've got a captive audience ready and waiting.
---
3. EMPOWER YOUR TEAMS FOR WISMO REDUCTION.
Customers want to be able to access delivery or returns tracking information on demand, and if they can't find this easily, they'll be reaching out to you, the retailer. At up to £6 per customer contact, it can be an expensive problem to have.
Prevention is better than cure, when it comes to WISMO (where is my order) and WISMR (where is my return). Branded tracking pages, and automated status updates, can mitigate the risk of customers feeling out of the loop. In fact, one of our unstoppable customers recently saw a 63% WISMO reduction doing exactly that, where WISMO used to make up 40% of calls, but now make up only 15%.
But not all customer enquiries can be stopped. So streamlining and supporting customer service agents becomes a priority. And, if you have the right data, you can give them the insight they need to take proactive action and deliver a 5* CX. Even when things go wrong.
---
If you'd like to know more about your options for post-purchase tracking software, check out this blog here.
If you're interested in SortedREACT, you can find our product info here or get in touch to have a chat with one of our delivery experience experts.
---
Key takeaway: REACT features in reality…
REACT's dashboard gives customer service teams the insight they need, and highlights issues by severity so prioritisation is clear. Plus, with escalation management and alerting, agents get warnings when there are shipment issues, meaning warnings such as 'is late' or 'may be missing' even if the carrier hasn't passed over an update.
REACT's interactive management dashboard gives CS and logistics teams the information they need across all carriers, ensuring you're not the last to know about issues. Take inspiration from one of our customers, and proactively inform shoppers that their delivery costs are being refunded when there's a delay; keeping WISMOs down and your CSAT or NPS score up, when things go wrong.
---
4. THE LINK BETWEEN CARRIER PERFORMANCE AND CX.
Carriers hold the keys to delivery experience in the real world. What they do and how they perform is a direct reflection of your brand in the final mile.
You can't see deliveries happening with your own eyes, and you shouldn't need to rely on carriers to mark their own homework. This is where your data and insights can give you a head start over your peers when it comes to customer experience. Accurate reporting and monitoring means you're fully in control, and broken promises can be tracked and reduced.
We've recently spoken to one retailer who is exploring how to use carrier performance data across all their delivery partners by comparing it to their CX metrics. This will enable them to discover whether delays from a particular carrier resulted in a fall in NPS or CSAT. Invaluable when innovating and optimising delivery experience.
---
Key takeaway: REACT features in reality…
We're continuing to build on REACT's advanced performance reporting; from the big stuff like tracking performance by carrier, to the detail on how many shipments were delivered early, on time, or after the promise date. Your customer delivery or returns experience can be monitored consistently and in one place – regardless of how many carriers you use.