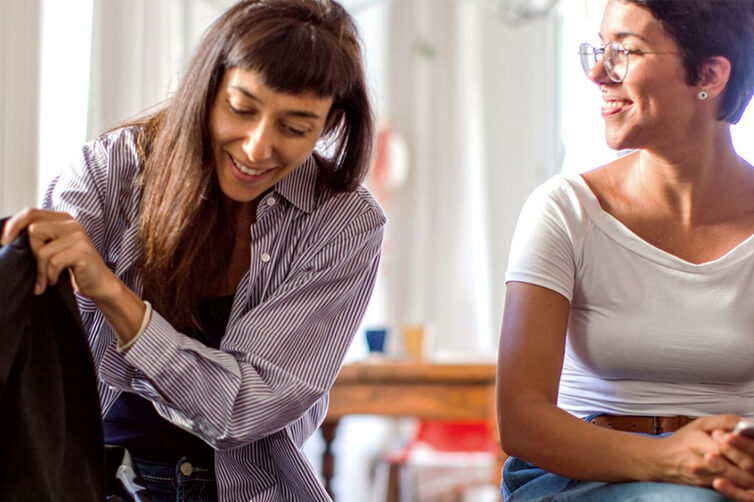 We're well dressed, us Brits.
According to The House of Commons Environmental Audit Committee, British shoppers buy far more new clothes than any nation in Europe. And it seems we are buying twice as many items as we did a decade ago. This obsession has led to a rise in demand for the 'I want it right now' outfit. Fast fashion is an established but snowballing trend impacting online and instore consumer expectations and shopping habits.
This transformation in shopper expectation and behaviour has given rise to an army of fast fashion retailers like ASOS, Missguided and boohoo, who inherently resonate with their millennial and Gen Z customers. Some more traditional but forward-thinking multichannel retailers are responding with faster delivery times, better returns processes and improved service levels in their wake.
Yet there's still a widening gap; fast fashion retailers continue to thrive whilst the traditional retailers run to keep up. Some have been knocked out of the race entirely.
Why? Because today's consumer wants convenience, relevance and exceptional experiences. And, sadly, not all traditional retailers are taking these expectations seriously enough.
Here are 6 lessons traditional multichannel merchants can learn from fast fashion retailers:
1. MEET EXPECTATIONS
Firstly, fast fashion retailers know their customers intend to buy cheap and often. This means that the customer may only wear a single item two or three times at most. Then, it's on to the next one – after all, can you really be seen in pics in the same outfit twice?
To meet these motivations and expectations, fast fashion retailers keep their overheads and their wholesale purchasing costs down.
But a low price isn't the only expectation today's fast fashion shoppers have. They want shareable, 'grammable products and experiences (beautiful unboxing vlogs, anyone?).
Multichannel retailers can win here; they have an entire physical playground for their customers in bricks and mortar. Yet many are failing to make the in-store experience as enticing and exciting for the contemporary consumer. And this is exactly what they want.
"Fast fashion retailers meet their changing customer expectations far better than traditional retailers. Multichannel retailers should look at more 'destination' store concepts, perhaps including interactivity, bars or even experiential events such as mini fashion shows. Customers would get more excited to visit them, they'd choose to spend extra time there, but of course this takes resources, cost and creativity."  
Bright Masih, National Sales Manager, Sorted Group
2. HAVE A CLEAN PROPOSITION
To win more sales, many traditional retailers service different age groups, demographics and tastes within their stores. Fast fashion retailers, meanwhile, have their eyes on one customer — the fast moving millennial.
And why does this help them thrive? It gives them the opportunity to create a value proposition that's far more precise.
But how can wider-reaching multichannel merchants possibly follow suit? Often they are weighed down by their traditional brand legacy, ignored by impressionable teens. So, now is the time to consider branching out by creating sub-brands with a new positioning that talks directly to younger, contemporary consumers.
"I think multichannel retailers would find success by creating capsule fast fashion businesses that exist separately from their main brand. These retailers could set up mini fast fashion empires that operate on a lower-cost model but still contribute to the umbrella business. This would allow them to separate themselves from any negative or outdated perceptions of the main brand."
Bright Masih, National Sales Manager, Sorted Group
3. PRIORITISE CONVENIENCE
On top of low prices and shareable experiences, millennials really value convenience.
This convenience extends from browsing and purchasing, to the checkout, the range of delivery options and the post-purchase communication experience. And, as Missguided learnt, a pain-free returns experience provides the perfect chance to drive customer loyalty.
There's a ripe opportunity for multichannel retailers to tap into the post-purchase delivery experience, just as many fast fashion retailers have done. The last thing a customer wants is to be taken to an unfamiliar, clunky carrier site. Integrated tools like SortedREACT pull together delivery tracking data into one place, allowing retailers to create a streamlined post-purchase experience that speaks in the correct tone, and has the right look-and-feel for their audience.
"Remember, the retail customer has been sold into the brand, not the carrier. Equally, the carrier probably doesn't care as much about the customer as the retailer does. The experience is less personalised. The site feels industrial and the vernacular is all wrong."
Bright Masih, National Sales Manager, Sorted Group
Wherever consumers place their order is where they want to track their order. Sorted helps retailers share delivery tracking info on their own website (or their app, or via live chat, or via email… wherever is best for their customers). Better still, the tracker is always in the brand's environment, not in third party carrier's so consumers remain in a familiar setting they trust.
4. NEVER MISS AN OPPORTUNITY
Unlike fast fashion retailers like ASOS, a number of multichannel merchants are missing cross-sell opportunities, post purchase.
As we know, tracking orders is important to consumers. And we just mentioned that traditional retailers often direct their customers to third party delivery carriers for this information. This means retailers are missing the chance to promote additional products to that customer. Who could turn down that tempting bag to complement that gorgeous new dress…
Just imagine, if from 3 million customer orders, 20% made another £10 impulse purchase, that's £6 million additional revenue. That's certainly not a figure to be sniffed at.
"If the customer is interacting with a delivery tracker anywhere other than on the retailer's website, the retailer is missing a huge opportunity, and regrettably losing out on millions of pounds of untapped revenue."
Bright Masih, National Sales Manager, Sorted Group
A multichannel retailer could, however, use SortedREACT to embed dynamic delivery consignment data into a personalised page, on which customers can reach their order tracker and receive personalised product offers at the same time.
5. USE THE RIGHT BUYERS
Another successful trait of fast fashion retailers is sourcing exactly the right products for their customers. Always.
This eagle-eyed focus on a perfect range requires finding (or keeping) the right buyers. Often, for leading fast fashion houses, the founder remains as head buyer. Why? In most cases they know what their customers want best.
"Buying the right products is absolutely essential. I know of a fashion retailer that dropped 50% of its revenue because it had a different buyer. If you have buyers that are sourcing products for lots of different demographics, they might not have the right eye."
Bright Masih, National Sales Manager, Sorted Group
6. BE RELEVANT
Fast fashion retailers have precisely the right attitude to social influencers.
Attaching their marketing to the right people in the public eye ensures these brands are continually relevant to their audiences. Multichannel retailers, meanwhile, are attempting a move into a digital-first culture. Yet in many cases they just aren't doing it correctly. Influencer marketing is one such missed opportunity.
"Take Missguided, for example. This summer they aligned themselves with Love Island. This approach proves how highly relevant they are. They just get it. Simple as that. Retailers have to think like digital natives."
Bright Masih, National Sales Manager, Sorted Group
So, there are plenty of tips and tricks that traditional merchants can learn from successful fast fashion retailers. From increased brand relevance to higher convenience through new technologies, those retailers who fail to keep up with consumer trends may suffer long term or irreparable damage.
---