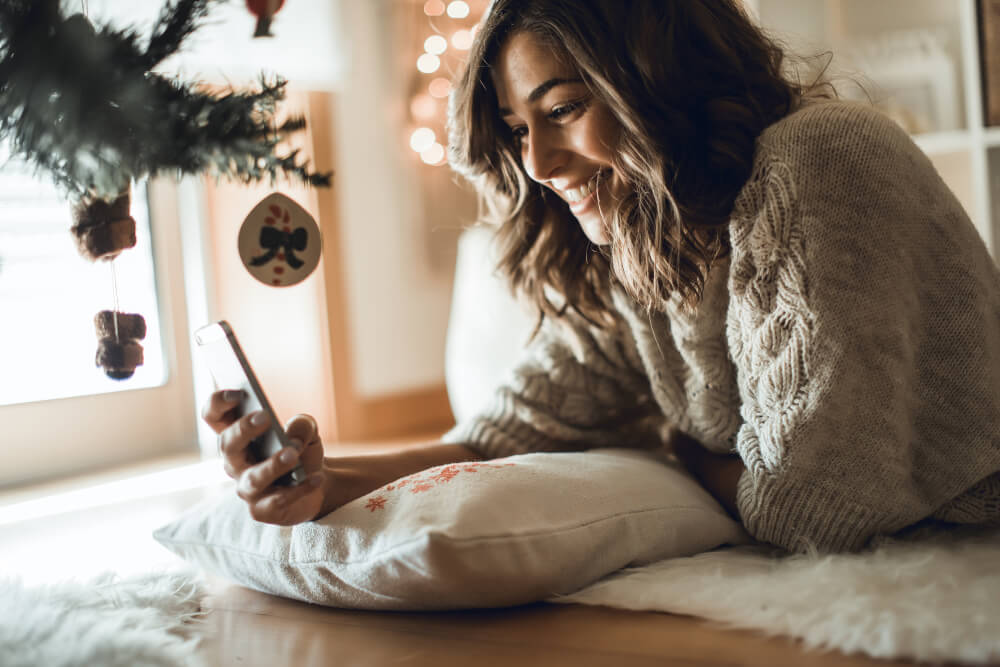 As part of our Winter Retail Guide, we're looking at how quick fixes also have a longer-term benefit – kicking off 2022 in a strong position.
Fixing some immediate problems can mean this peak period is easier and smoother for you and your teams (and, most importantly, your customers).
But it isn't just about making it a smooth ride, it's about making it your most impactful period to date.
Here's the recipe for a powerful peak:
---
1. Reduce 'Where is my order' calls.
It really is as simple as that. Taking pressure off the contact centre will not only save precious time and money, but will also ensure a smoother customer experience.
Our research found that 71% of consumers had to contact customer services (CS) up to three times in a six month period this year – a figure which has undoubtedly been impacted by lockdowns and the ecommerce boom. The Bank of England say that, during peak periods, the average UK household spends almost 29% more in December than in a typical month, and a rise in spending always leads to a rise in contact-to-order ratios. One Sorted customer found that WISMO made up 40% of their contacts before implementing Sorted's post-purchase tracking and comms solution.
Purchases are time sensitive and high emotion at Christmas, so shoppers want to know every detail of their delivery. As more customers call, email, WhatsApp, tweet or chatbot their queries and questions, CS teams feel the pressure; service levels slip, costs rise and the customer experience is damaged.
The solution is simple to implement, and very effective: allow your customers to self-serve their delivery queries with branded tracking on your website and in your app. Being transparent with parcel status puts the control in the hands of the customer, meaning fewer reasons to contact you for delivery updates. Plus, our research found that 21% of consumers said not having regular updates on the progress of their deliveries would make them shop elsewhere.
By launching branded tracking pages, musicMagpie saw a 63% drop in WISMO calls. Want to find out how much you could save by reducing WISMO and WISMR calls?
---
Post-purchase tracking and communications = customer contact reduction.
Use this handy calculator for a quick estimation of the money and contact centre minutes you could save with post-purchase tracking and comms software.
1. Fill in your average number of WISMO or WISMR customer contacts per year
2. Enter the average cost of a WISMO or WISMR customer contact (We find, on average, it can sit around the £4–£6 mark for a call)
3. Complete the average WISMO / WISMR contact handling time per customer – as a guide, our customers typically see call handling times of 5.5 minutes
4. We've seen customers reduce WISMO by as much as 63%. Every retailer (and their WISMO or WISMR rate) is different, so if you want to play it safe, feel free to lower the percentage to between 25-35%
5. View your potential savings
Data is based on Sorted customer success metrics, and WISMO and WISMR customer contact reduction is just one area where you can measure savings.
Number of contacts per year
Average handling time per contact (minutes)
Percentage decrease with tracking & comms software
Savings with Sorted
Minutes saved per year
2. Be ready for disruption.
Retailers have had quite the test in the last two years, when it comes to global supply chain issues – with Brexit, the pandemic, workforce shortages and the Suez Canal blockage as just the start. The winter period sees disruption due to extreme weather, strained carrier networks, increased pressure on transport and logistics systems and seasonal illnesses for supply chain workers, to name just a few peak problems at a time when parcel volumes are higher anyway.
Realistically, things are always going to go wrong – often beyond the control of the warehouse and contact centres working overtime to protect CX. They know that it isn't always about avoiding disruption, it's about mitigating the impact to customers when it hits.
57% of shoppers in a recent Sorted study say that quick updates from a brand, and the offer of discount and/or a refund, would make up for the disappointment of delivery disruption. This follows a staggering 97% of consumers stating that knowing where their delivery is is important, and 60% claiming it is 'very important'. Given that 1 in 5 shoppers in the UK are less likely to order online after just one negative delivery experience, every customer counts.
This is where accurate and timely delivery communications can add value. Keeping shoppers informed with automated comms means that their expectations are always realistic, and their experience is always as positive as possible (even when things go wrong).
You don't need to know exactly what is going to happen, just be ready to act when it does.
---
3. Make life easier for agents
So far, we've looked at how to reduce WISMO and keep customers updated on delivery disruption… but it's just as important to handle customer contacts effectively and efficiently when they do occasionally arise.
For this, it's crucial to ensure teams are fully informed and have easy access to all the insight they need for quick first-time resolution.
During peak periods, the management and monitoring of delivery and returns
progress is one of the biggest drains on time for customer service teams. The requirement is often insight 'by exception'; meaning that it isn't necessary to see everything that's going right, but business critical to see everything that's going wrong.
A mere 10% of the UK's top 100 retailers said they were realising the full value of their customer data, and only 12% say the same about non-customer data.
Having the right data and insight on hand will speed up customer contact resolution. In just a few clicks, CS teams should be able to get the info they need to serve customers. Reports that aggregate all shipments across all carriers or delivery partners, and dashboards showing delivery issues by severity let agents prioritise and serve customers effectively. Particularly during crisis management and disruption – very common, during peak.
Retailers and brands should have total confidence in data accuracy, to ensure insights are trustworthy and reliable. For this, post-purchase data should come through a partner who is directly integrated with carriers, which ensures both richness of data quality and fast transfer speed, rather than relying on scraping methods which can result in out of sync or missing data.
---
4. Get delivery right first time.
Not only is there an environmental benefit of delivering a parcel on the first attempt (think fewer journeys in fewer delivery vans), there's also a huge impact on customer experience.
When busy peak periods put more shipments on the road, more parcels are left on doorsteps. 42% of consumers in a recent Sorted study said that they have missed, on average, three deliveries due to miscommunication by a brand or courier during the pandemic. And, with 63% of people expecting to be out of the house more frequently now that COVID-19 restrictions have begun to lift, it's the critical time to boost first-time delivery success.
Sorted research also found that 76% of shoppers claim to feel considerably happier and more excited when they know a delivery is arriving that day – so getting that experience right is the only way to protect CX.
An overwhelming number of shoppers (over 80%, in fact) think that delivery communications should come from the retailer or brand. In reality, our secret shopper report found that 54% of retailers we mystery shopped had delivery communications from both the brand and the carrier. This causes confusion, duplication and over-communication
Delivery tracking and updates should come directly from the retailer or brand. Increasing chances of first-time delivery success results in a better customer experience during busy peak periods.
---
5. Make sure costs stay manageable.
The more customer enquiries, and the longer they take to resolve, the more expensive delivery operations become. The cost to resolve each customer contact sometimes sits between £4 and £6, and a McKinsey report found that last mile can be responsible for over 50% of the total logistics cost.
When WISMO contacts are high, or where customer service agents are forced to manually identify issues and browse multiple complex systems to find parcel info; seconds and minutes can turn into days, even weeks over the course of a year. All of it wasted, expensive time.
To cope with demand, some businesses simply employ more contact centre agents, putting extra pressure on the bottom line. But, during peak periods, the most impactful way to streamline costs is to simply serve customers more efficiently. Reducing WISMO and speeding up issue resolution, as above, has huge budget benefits.
---
All of this stuff sounds simple… and, on the most part, it really is. Fixing the basic 'quick wins' offers solutions to those short-term issues and creates a powerful peak.
SortedREACT helps here (and you could even be up and running in days). The impact can be massive, and can help right now.
---
Read our customer story to find out how musicMagpie reduced WISMOs and improved CX.
Read the customer story