Track updates: September 2023
Exciting news. We're about to launch some updates to Track, which we hope you'll love.
If you're reading this, it's because we've recently been in touch with you to let you know about some new updates to Track. On this page, you'll find an overview of the changes we're making.
If you have any questions, please get in touch with us – via Support, or via your customer success manager. We're more than happy to help.
Some quick FAQs
Your feedback means everything to us. That's why we're releasing UI changes, layout tweaks, navigation and search updates, and accessibility improvements to make your experience of Track even better. A full overview can be found below.
What does that mean for me?
There is no action to be taken by our customers, and we foresee no negative impact to the availability of our products and services.
Overall, this change aims to give you a better experience when using Track.
When will the changes go live?
A product release, which includes these changes, will go live on 13th September 2023.
---
Here are the updates you'll see in Track
---
Search and navigation
The horizontal nav bar has been updated with a new, clearer design to make the search feature more prominent. This is the most used feature in Track, so continually increasing usability is our priority.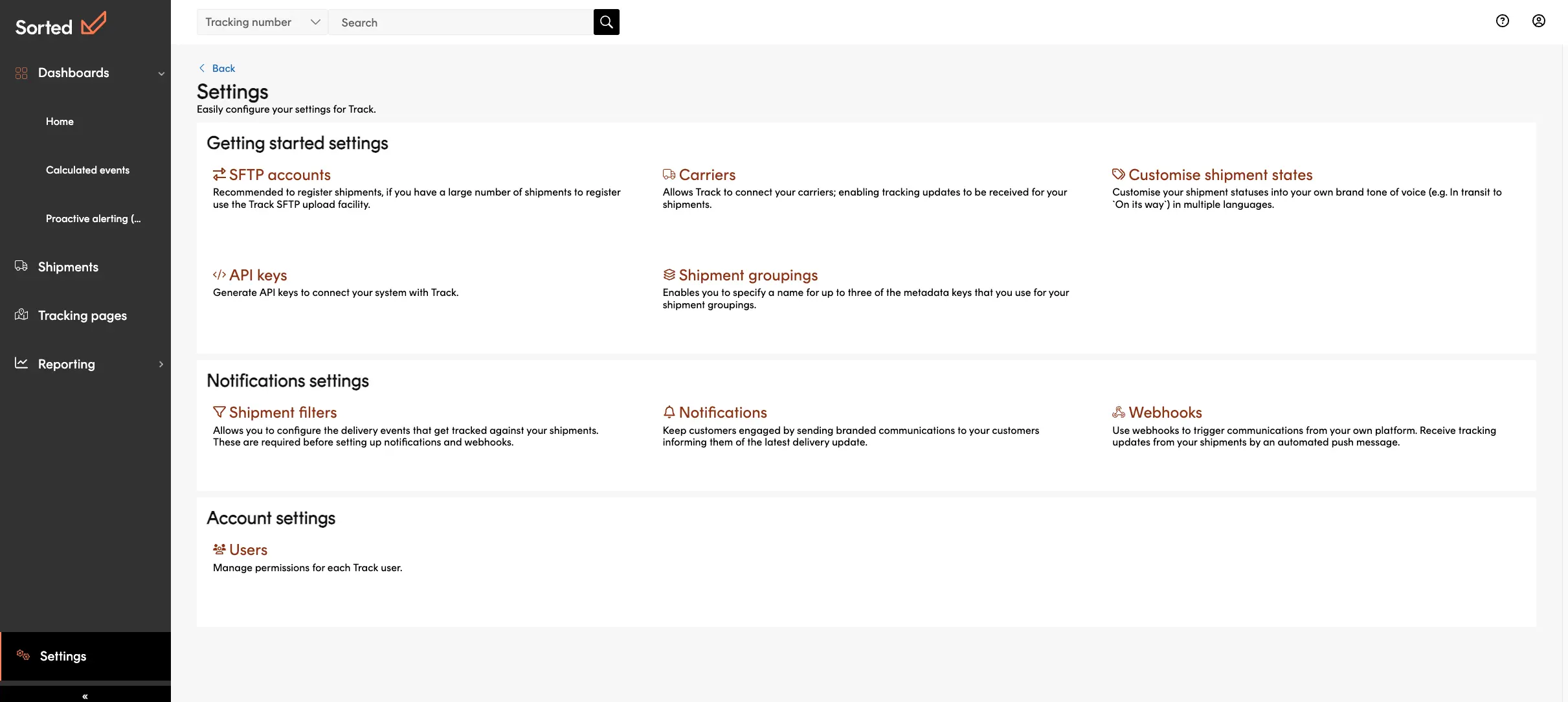 ---
The vertical sidebar, which is your main navigation point within Track, has had a number of visual and layout changes, including font size increases and icon updates. There are new 'quick access' options for Shipments and Tracking pages, to make navigation easier. Plus, 'Dashboards' and 'Reporting' now have collapsable chevrons, or arrow menus, which expand to reveal sub menus.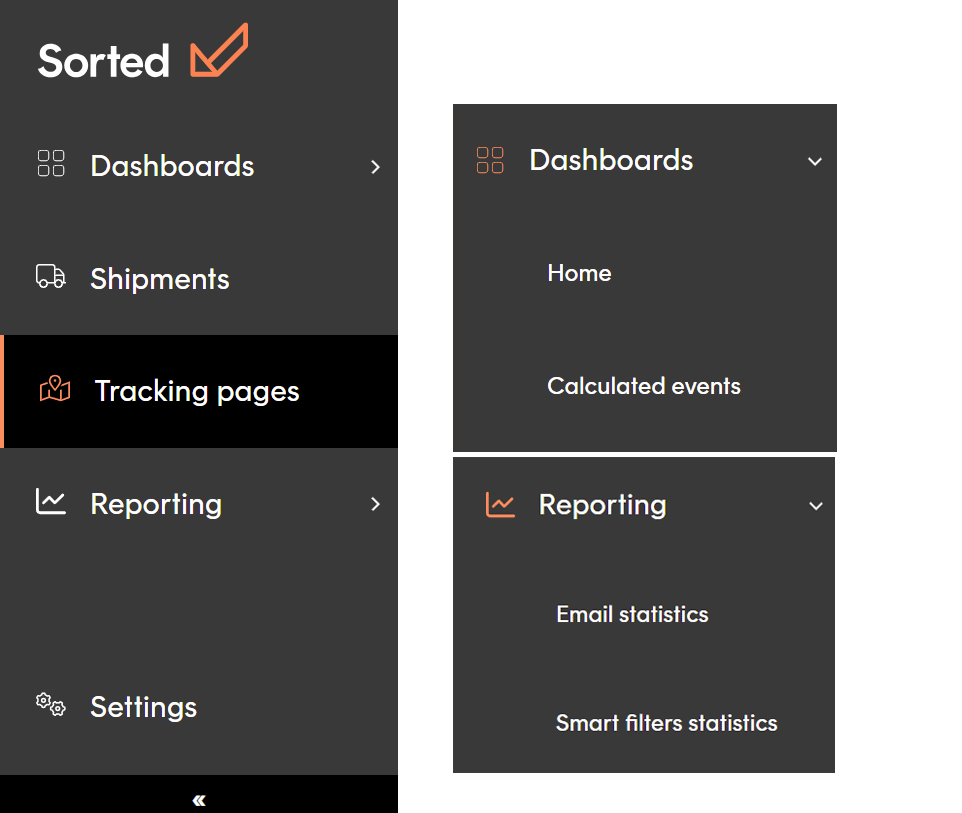 ---
In other news, on the nav bar, 'Settings' has moved to the bottom of the menu. There's a new design here, too; removing the previous sub menu pop out and improving the formatting of the Settings sub sections. The help and support button has moved to the top right of the Track interface – highlighted in yellow below. The question mark icon links through to our extensive Docs portal, and the user (or profile) icon will log you out of the platform.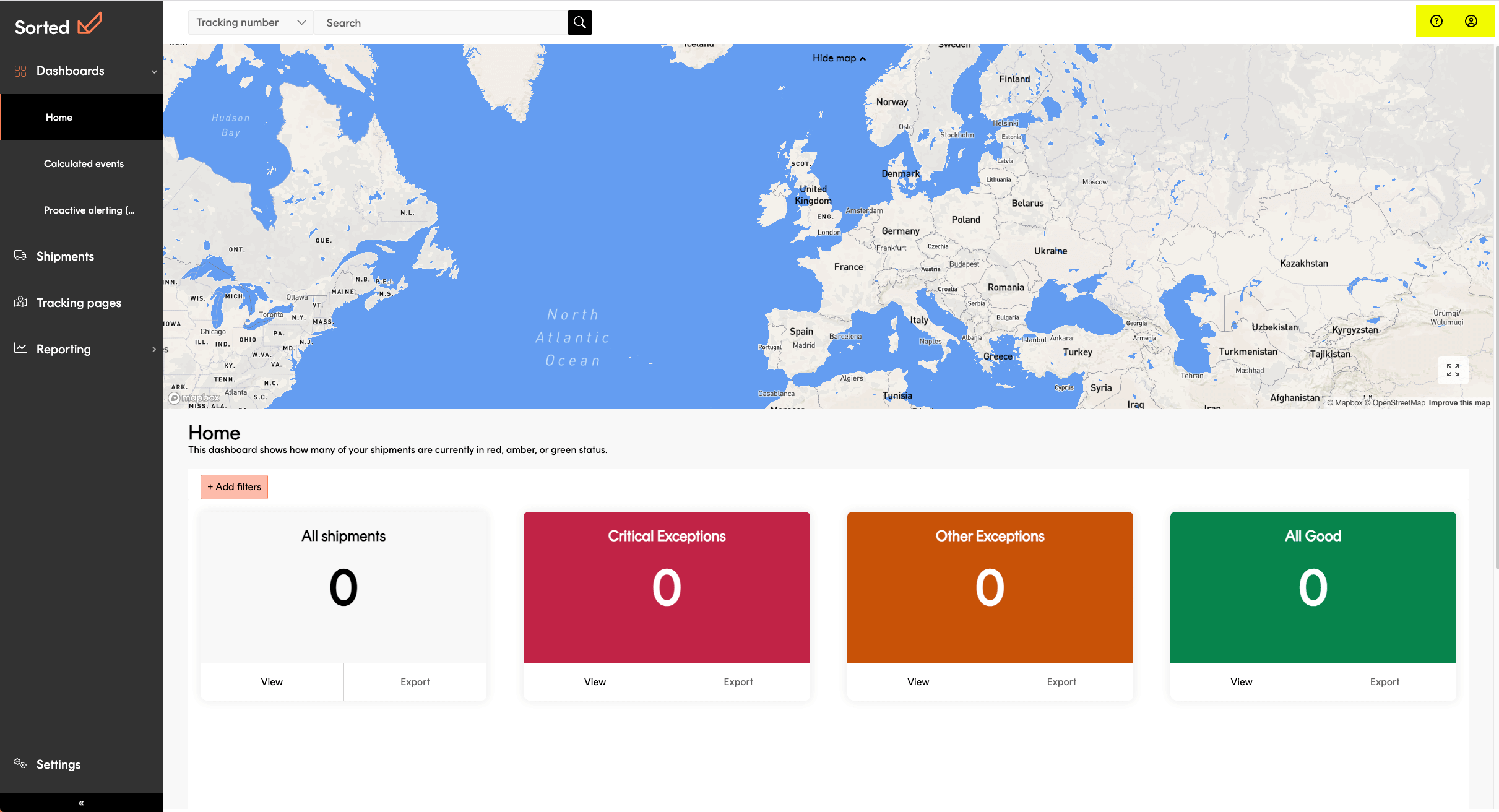 ---
Settings
To manage your account – such as updating users – head to the new 'Settings' section. From here, you can do lots of things; take a look at the screenshot here.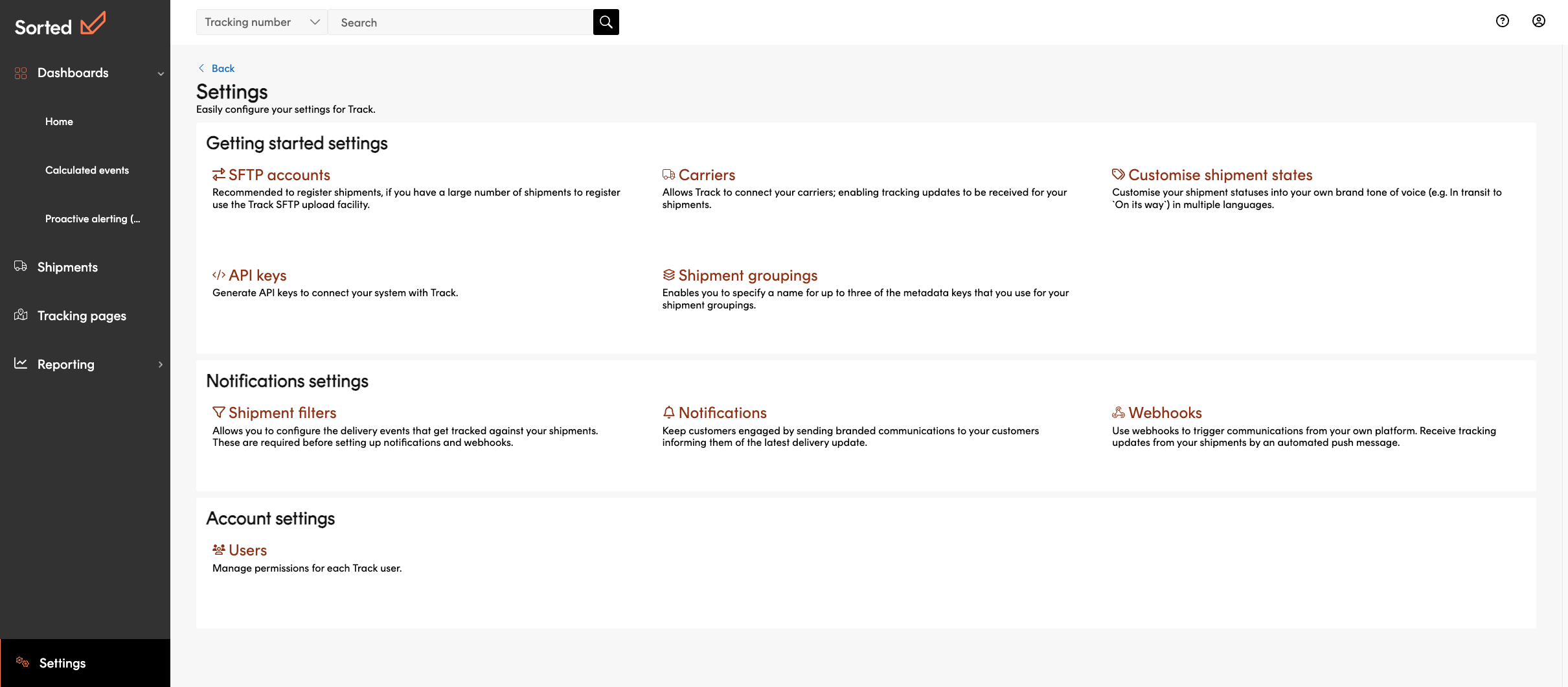 The new settings page layout allows you to self-serve your queries, to ensure you get a speedy resolution and can take action easily. We've grouped and organised the options here, to ensure they're as intuitive as possible.
The 'Users' section has been updated from cards to a table format – making it easier to find what you're looking for, and easier to make changes. The 'Users' page title shows you the total number of users you have. Here, we now place users under tabs too, utilising helpful categorisation for status or user groups; All, Admin, Dashboard, dashboard basic, Marketing and Pending users.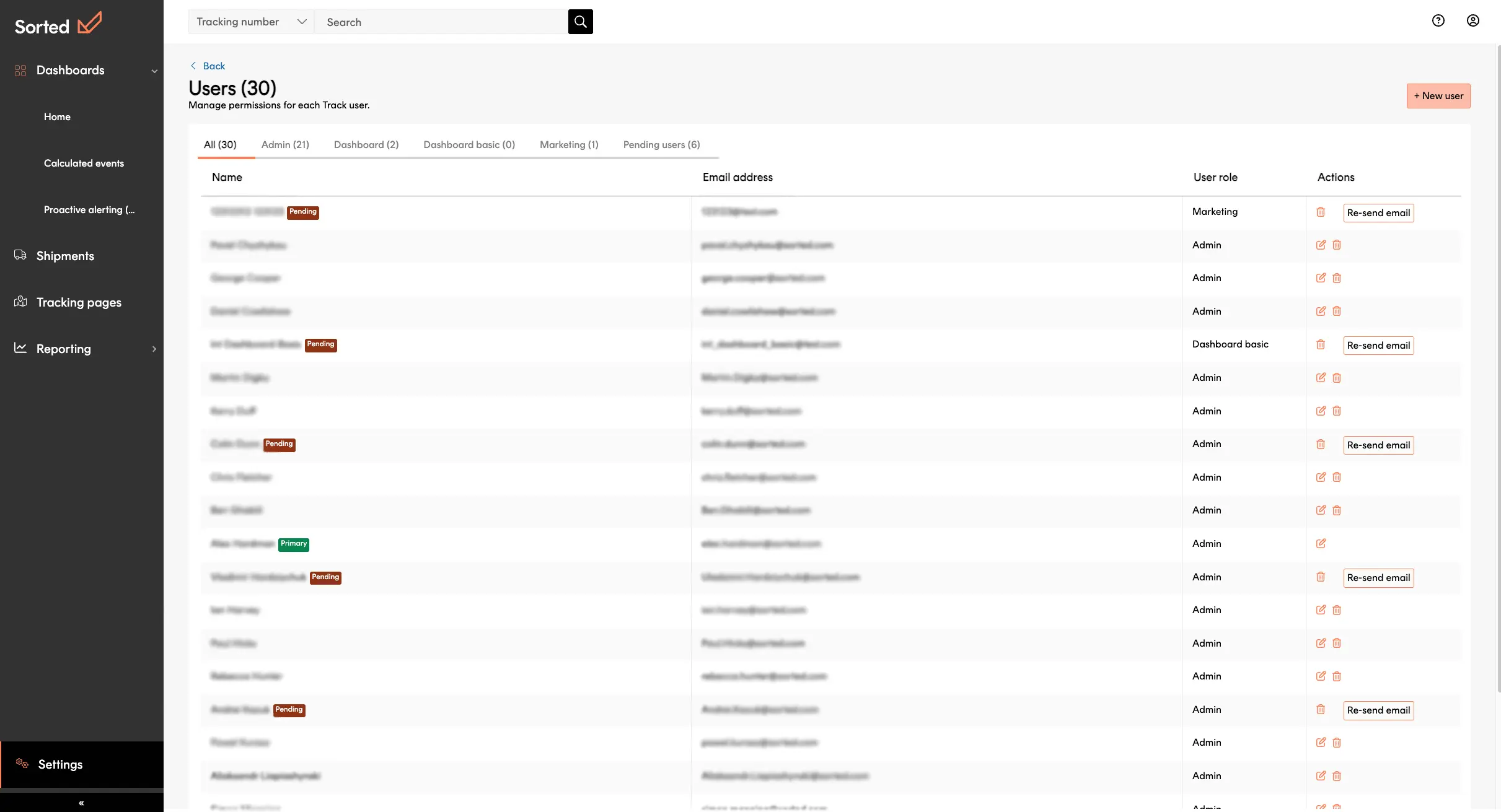 ---
Shipments
If you head to the 'Shipments' section, there'll be some updated wording in the section description and there's a clear button that will allow you to 'Add filters' as you search and manage your data.

On top of that, you'll see that the CSV export button is now to the right.
In the dashboard, on the 'shipment summary' page, we will now be displaying the first, earliest scan event from the carrier – this is when the parcel data has been received from the carrier but the parcel has not yet been collected by the carrier. This shipment status is classed as 'for information'.
Non-state changing tracking events are now visible in the UI. When the first tracking event received is a 'for information' event, it is displayed in the 'Shipment summary' timeline, under a new main state heading of 'Dispatched'.

If there are any additional 'for information' events after the first event, they will appear under the relevant main heading in the order they arrive from the carrier, as per the current process. This change improves the triage process when you're looking at carrier failure rates, and increases the transparency of all tracking events in the UI.
---
Overall user interface changes, for usability and improved experience
You may spot some other changes throughout Track, too.
In a few places, we've updated the background of the user interface and we've given the buttons a lick of paint.
---
That's it, for now!
We're always working on new features and updates, so please do get in touch with any ideas or feedback.
And, as always, we're on hand to support on any queries or training requests. So just get in touch with your customer success manager, if you need anything.