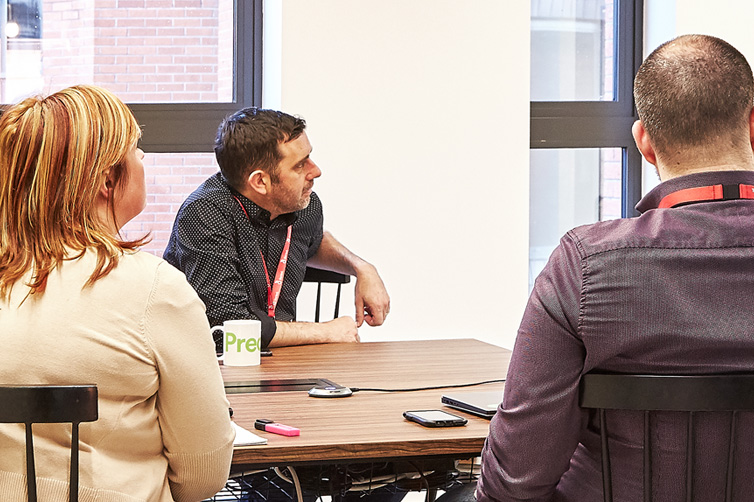 Thirty retail leaders in one place, discussing how to re-engineer the industry. What could go wrong?
Well, nothing. It was brilliant.
We joined forces with Isobar to run a workshop on day one of Live, where we asked the real hard-hitting questions about retail strategy, transformation and how to survive and thrive in the new world.
---
We asked questions such as 'do you have a single view of the customer?', 'how will investment priorities change?' and 'how is your business embracing omnichannel?'. Over the course of an hour, four tables of retailers spoke candidly about their world.
We've painstakingly trawled through pages of notes and put together a compact four-point list of the themes and insight shared. Here are some of the things keeping our retailers up at night…
---
To start on a very frank and honest note, our retailers told us that no-one really knows what to do next.
With examples given to illustrate the businesses that really have it together (such as Primark's admirable adoption of digital channels, despite lack of ecommerce offering, and Walmart's new store fulfilment app), the elephant in the room was called out – everyone is playing catch-up when it comes to transformation.
Consumer expectation, demand and business direction are changing at such a rapid pace, it's a very exciting and overwhelming time for the industry. And transformation simply has to be led by what your customer wants (whether or not they know it yet).
The takeaway message? We think it's this: calm down, take a reasonable pace, really get to know your customer and invest in tech bravely and wisely. It's not a one-size-fits all.
---
The battle of bricks versus clicks, and how the buy button and the till can work together. This was a massive theme through the whole of the event, not just these roundtables.
For retailers operating online and offline, the experience in store is as important as the ecommerce experience. The lines are blurring on where customers want to try, buy and return – and the tables stressed that more emphasis needs to be put on the post-purchase experience, after the transaction has been processed.
Often, it isn't even brand new implementations that can make the biggest difference here. One table made the strong argument that legacy systems are often the most problematic – at the point they become unresponsive to change, it's time to take the plunge and move on. When it comes to putting together business cases, P&L and justifying investment in tech, it's the holistic view of every channel that is the win. Of course, for that you need water-tight data and insight…
---
Obviously, with a question dedicated to data, the tables had lengthy discussions about personalisation and insight. That said, it was a theme that came up throughout. And it's no surprise.
One of the people around the table said, 'Where do we start?'.
Retailers are either drowning in data, or the well appears to be dry. Hidden data, across disparate systems, confusing external sources or disconnected teams, often leads to distrust or misuse.
Business intelligence analysts can lend a hand here, as they translate data into business strategy and the language senior leadership speaks – plus, cross-team working naturally improves collaboration, and BI employees crucially need access to different business areas. But getting the wider teams engaged and joining the data dots is challenging. Informed decisions can be the difference between thriving and failing.
---
That leads us on to our final key theme… collaboration and cross-team working. Data is an important part of this, but it goes even deeper than that.
With IT, Marketing, CX, Call Centre and Operations all sitting in different places, in different meetings, with different targets and different projects; how can there be smooth and consistent transformation?
The realisation that everyone – all over the organisation – owns the customer experience is imperative for retailers. It's everyone's job to work together with the common goal. There is tech available to connect each area seamlessly, ensuring the right warehouse systems talk to the web checkout in a way that will keep the call centres happy – and that's the golden key to keeping the customer smiling.
This workshop was based on our upcoming research report, in collaboration with Retail Week and Isobar. For full access and news on when it's released, follow us on Twitter.
---