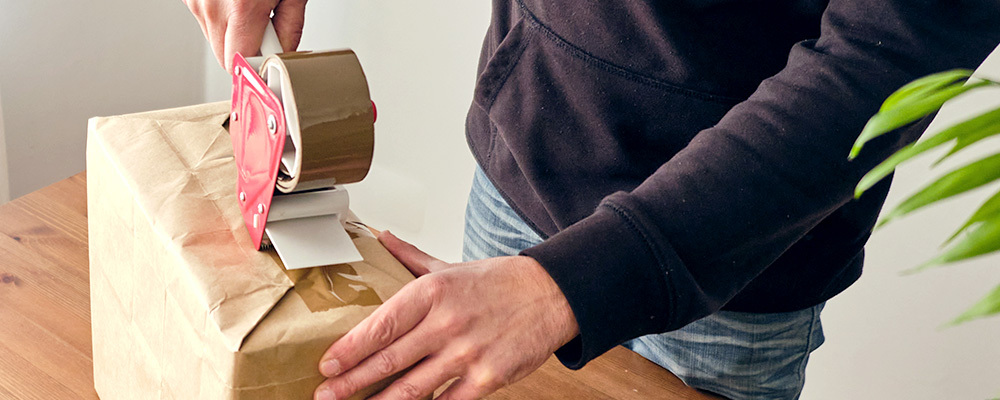 Customer returns. It's a part of the purchase journey that any retailer would rather avoid, right? Especially for a small-to-medium sized business (SMB) where returns and exchanges can use up time and money.
Online sales have increased by over 46% in the UK since 2020, and, as you'd expect, while online shopping continues to rise in popularity, businesses are seeing higher levels of product returns. And the evidence is there to back it up, with the rate of online returns increasing year-on-year. Recent research shows that 38% of UK online shoppers now feel more confident in returning online purchases due to the pandemic.
Having high volumes of returns leads to an increased loss of earnings for SMBs as they refund customers, and online returns alone cost UK retailers an estimated £5.2 billion a year on average.
That's big money.
But it doesn't have to be a negative part of ecommerce. And that's where this guide comes in. To help you understand everything you need to know about returns, we'll cover:
A customer-centered approach to returns
The legal side of customer returns
Does my business need to accept returns?
What is a returns policy?
Who sets a returns policy?
The importance of having a good returns policy
What protection do retailers have?
Evolving from 'good' returns to 'five-star' returns
The importance of a branded returns portal
---
A customer-centered approach to returns
Customers expect a customer-centred experience throughout the buying journey that includes the pre-purchase, purchase and post-purchase points. If customers find the returns and exchanges experience straightforward, you're potentially capturing a repeat customer for life.
That's why offering exchanges is a great option, minimising the return rate. Exchanges help to keep the customer relationship going, as well as reinforce brand loyalty by turning the experience into a positive. And, the retailer gets to retain that revenue.
So offering a customer-centred approach to returns can help you to stand out and attract new customers, as well as increase customer satisfaction and loyalty. And it's well worth it because it can cost five times more to attract a new customer, than it does to retain an existing one. SMBs can start to build brand loyalty and stay ahead of the competition by simply having a good returns and exchanges process in place.
And as returns are inevitable, getting it right will always work in the retailer's favour. So don't treat it as an afterthought – view your returns process as an important part of the customer experience.
When you're a growing retailer, it can be hard to know where to start when building an efficient returns and exchanges process with the interests of the customer in mind. Learn the secrets behind getting returns and exchanges right, so you can feel confident that your post-purchase customer experience is a winner.
---
The legal side of customer returns
Consumers have significant rights when it comes to product returns., sSo as a small-to-medium sized business, it's important to be aware of legal duties and responsibilities by checking out the law.
---
Does my business have to accept returns?
The short answer is almost always yes. In the UK, consumer rights come first when it comes to returns, so it's important to be aware of your legal duties and responsibilities.
Under The Consumer Rights Act 2015, consumers may be entitled to a refund, replacement, repair and/or compensation where goods are faulty or not as described.
With any sale, online or otherwise, customers can expect goods to be of 'satisfactory quality', 'as described', 'fit for any purpose made known to the seller' and to comply with other trading standards laws such as product safety or unfair terms and commercial practices. That could include items that aren't manufactured or labelled in accordance with UK safety laws, or extra hidden fees and charges in the small print.
The seller is responsible for the products or service until they reach the consumer, or someone they have nominated to accept delivery on their behalf. That means the retailer is liable for non-delivery or any damages even if it's the fault of the courier.
There are even more rules for online sellers for both before and after an order is placed that you need to be aware of.
Occasionally, there are times when retailers don't need to offer a full refund. Such as if the customer was aware that an item was faulty when they bought it, or the item was damaged whilst the consumer was attempting to carry out a repair. (However, they may still have the right to a repair, replacement, or partial refund – so be aware of the rules).
---
Before an order is placed you must:
Make it clear to customers they have to pay when they place an order (for example, a 'pay now' button).
Display clearly how customers can pay and include delivery options and costs.
Take reasonable steps to let customers correct errors in their order.
Give a description of your goods, services or digital content – include as much information as you can.
Give the total price or how this will be calculated.
Give the total delivery cost or how this will be calculated.
You must confirm the contract as soon as possible, for example with an email.
After an order is placed you must:
Confirm the contract as soon as possible. This should be no later than when goods are delivered, or a service starts, or digital content is downloaded. For example, an email must be sent when content is downloaded even if it does not arrive at the same time.
Provide a copy of the contract on paper, by email or another format the customer can save for future reference.
Deliver the goods within 30 days, unless you've agreed otherwise with the customer.
---
What is a returns policy?
A returns policy covers the rules the retailer creates to manage how customers return and exchange unwanted merchandise they've purchased. It tells customers what items can be returned and for what reasons, as well as the timeframe over which returns are accepted.
---
Who sets a returns policy?
Whilst offering returns is a legal obligation, as a retailer you don't actually need to state a returns policy at all, unless your policy offers the consumer more than their minimum entitlement in law. However, it's really in your best interests to have a concise and clear returns policy, to make customers feel of secure; that what they are buying is guaranteed to be what it's represented to be. If a retailer doesn't show transparency through having a returns policy, then consumers may avoid buying the product.
---
The importance of having a good returns policy
A returns policy helps to build trust between the retailer and its customers. Customers are generally at their unhappiest when they have to return an item, and the last thing the retailer wants to do is make their dissatisfaction worse by making the return process difficult.
By offering a clear and consistent way for customers to return purchased items, the retailer can actually increase repeat purchases. In fact, 36% of customers would be reluctant to reorder from retailers that fail to provide clear details of how to write a return.
You can feel confident that your returns policy offers up all the information your customers are looking for by using a policy template that can be edited to suit your own business needs. Sorted's returns platform does just that. Simply take the sample returns policy and change the pre-filled text to suit your brand. But don't forget that, as a retailer, whatever policies you decide to include in your personalised refunds policy, you may only add to customers' statutory rights.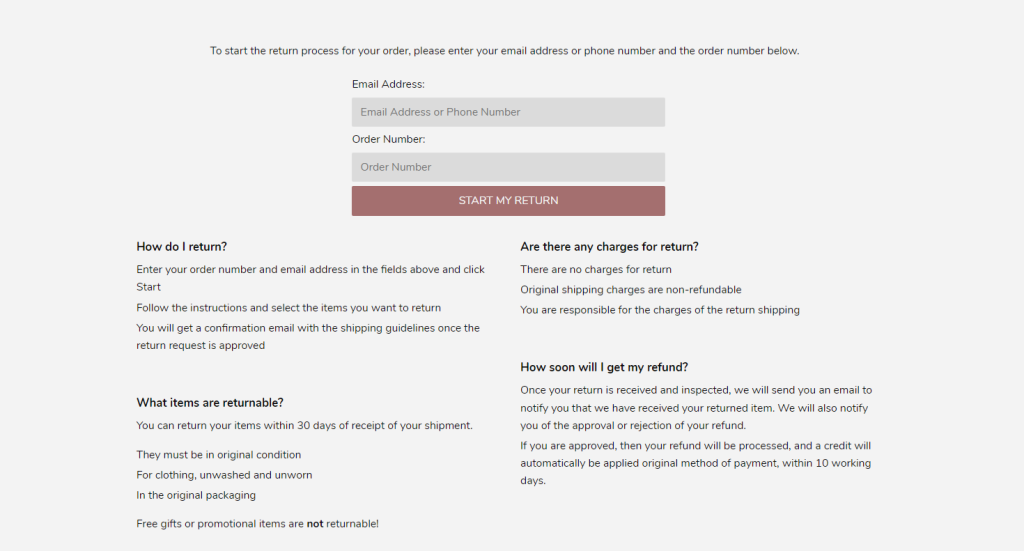 Example of a returns policy on Sorted's returns management portal.
---
Top tips to maximise the effectiveness of your returns policy:
Make your policy on refunds and exchanges clear. Confusion will only lead to abandoned baskets.
Free returns will remove the last point of stress that customers feel when placing online orders.
Personalise the returns policy and process to fit with your brand.
Make the returns period longer than what your store is legally obliged to offer. A longer return period gives customers the confidence to buy from you without fear of needing to return the item right away. Not only that – the longer the period to return an item, the less likely they are to return it.
Do research. Talk to customers who have returned goods and ask them about their experiences using your returns system.
---
What protection do retailers have?
---
Refunds
There are some circumstances in which sellers can refuse returns from a customer and do not have to issue a refund.
For certain products, such as personalised or custom-made items, or perishable goods (like food), retailers only have to offer a refund if the items are faulty. However, when buying online (distance selling), customers have the right to cancel their order for a limited time even if the goods are not faulty. Retailers have to offer a refund to customers if they've told you within 14 days of receiving their goods that they want to cancel – and they don't have to provide a reason. They have another 14 days to return the goods once they've told you. You must then refund the customer within 14 days of receiving the goods back.
---
Disputes
As a business, the last thing you want is a dispute with a customer. Unfortunately, sometimes issues arise. With increased prevalence of chargebacks, businesses are at a greater risk of losing money from customers who decide to file a dispute with their bank instead of working with the retailer to resolve the issue or receive a refund. A chargeback is a debit or credit card transaction that's reversed by the cardholder's bank after they dispute a charge on their account.
It's important to understand why customers initiate chargebacks — and what you can do to both prevent and dispute them. Some of the most common reasons that customers might file a chargeback are fraud, delivery issues, pricing issues, and product dissatisfaction. Some customers may even go down this route to avoid the returns process, if they feel that it's too difficult, don't understand it, or the period to return their item has expired. Another reason to have a transparent returns policy.
Customers will usually dispute a transaction if they do not receive the items they buy, so it's important to keep receipts and track the goods that you ship. This will help if there is a disagreement on goods not delivered.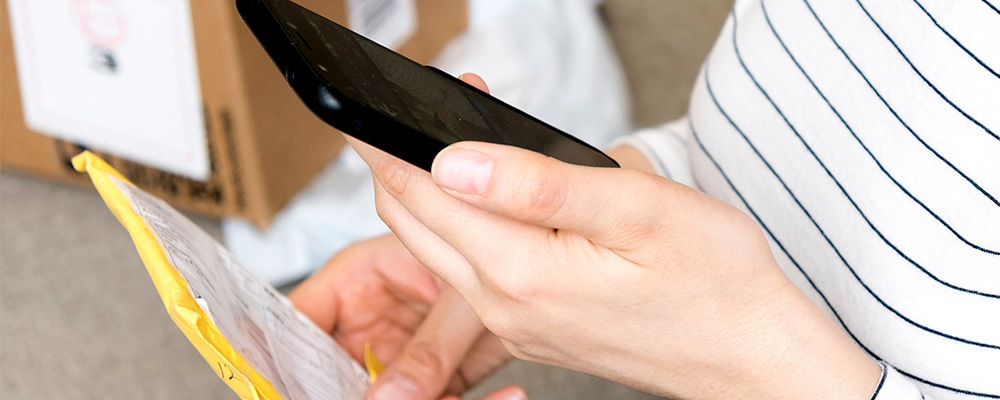 ---
Evolving from 'good' returns to 'five-star' returns
---
Minimise the rate of returns
Although a good returns process can benefit sales, it's obvious that the fewer returns, the better for business. The higher the rate of customer returns, the more pressure there is on profit margins, particularly for smaller businesses. Although it's impossible to completely eliminate returns, there are measures that online retailers can have in place to minimise the number of items being sent back. While some things are just inevitable, such as items damaged during shipping, around two thirds of returns are easily preventable with the right processes in place. Overall, make sure people are making an informed purchase decision when you are selling products. If they understand the product, its features and uses, they'll be less likely to be disappointed when it arrives.
---
Offer exchanges
Exchanges are just as important as returns. By making it as easy to swap to a different size or item, as it is to request a refund, you can convert the return into another sale that would otherwise be lost. With strong profit margins, offering a replacement product instead of a full refund can keep your business cash flow positive. Our recent survey found that those with strong returns processes in place will see a return on investment, with 61% of UK customers saying they would be more likely to exchange a product bought online than get a refund if exchanging was made simpler.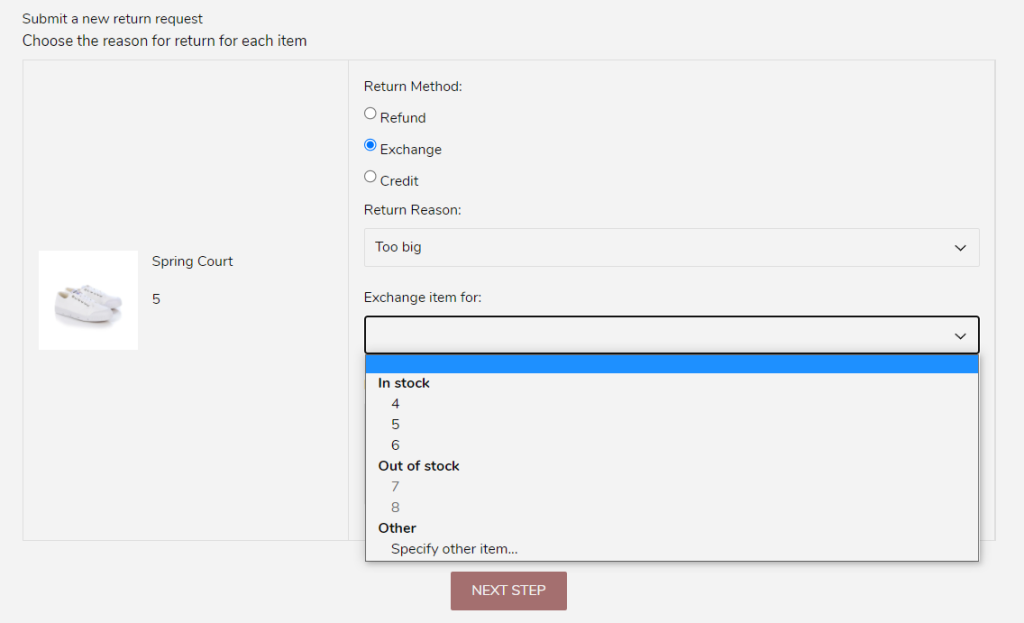 Example of exchange options on Sorted's returns management portal.
---
Offer free returns
By offering free returns, you're giving customers a statement of confidence. Lack of confidence is one of the main reasons that customers abandon the virtual basket, and 52% of customers would be unlikely to shop with a retailer again if they charged for returns.
If a customer knows they can post back an unsuitable item at no cost to themselves then they are more likely to place the order in the first place. So it's no surprise that free returns have become an increasingly popular.
It's clear that a free returns process can be paramount for the success of a business. 78% of customers said they are more likely to purchase from a brand if they offer free returns, as it makes the process much easier for them, so it can helps your business to stand out from the crowd.
---
Hassle free returns with Sorted
Sorted's returns platform enables SMBs to automatically generate return labels for the leading return services in the UK & US no matter how small the business is. The labels are generated and sent straight to customers, who can then choose from thousands of convenient drop-off locations. Alternatively, you can upload your own labels. And you decide who pays for the return – whether you want to offer free returns, share the cost with your customers, or even have customers pay for the full return.
We know free returns can be a problematic issue for smaller retailers. Customers want free returns and begrudge having to pay the cost of returning items, but it can impact profit margins. But if you can offer at least one free returns option, it's likely your customers will show their confidence with loyalty and regular ordering. If you can't offer it for free, there are still other ways you can make it more convenient for customers to return their items.
Make the return hassle-free. Send out return labels via email through the Sorted returns app. Make the refund quickly and timely to prevent any customer frustration at long waiting times and give the customers a choice of return options. Sorted's returns platform offers thousands of returns drop off locations to choose from, makinge returns management convenient for you and your customers.
---
Automating returns to free up retailers
The reality of an ecommerce business is that returns are a fact of life. But by using outdated, manual methods, managing returns will cost far too much time and labour, which SMBs simply can't afford to lose. Manually managing returns can involve many different steps. The time that passes from the parcel being returned, to when the refund is received by the customer, is in many cases much longer than it has to be. By fully integrating returns management into your strategy, even smaller businesses can streamline this costly process into a profitable operation.
Sorted Returns is an automated returns management app for Shopify users, where SMBs can automate their returns management to retain revenue, drive customer loyalty and reduce customer contacts. It's an easy way to set rules and return windows, approve returns, track progress, and get key insights. It can even let customers request refunds or exchanges via a branded portal and keep them updated with customisable communications. With 77% of customers stating that getting timely updates on the progress of their return, refund, or exchange would make them more likely to purchase again, the returns process is one you want to get right.
Returns management may sound like an expensive investment, but it doesn't have to be.
Sorted's free plan includes a branded returns portal, customer email notifications, retailer progress updates and a dashboard where you can manage your returns, so it's accessible to even the smallest of businesses. Get more info on pricing here.
One retailer found that they were spending a huge 15 minutes on customer service to manually process one return. By switching to Sorted, they decreased the time spent to approximately just one minute. Multiply that by the number of returns that come back, and that can mean a staggering difference in money and time being put back into the business itself.
---
The importance of a branded returns portal
---
A returns portal is an essential, customer-centred feature, as it gives the customer an easy 'self-serve' way to reach their desired outcome. Whether that's a refund or exchange, it results in much more satisfying returns experiences, while also removing any friction from the returns process. In fact, 92% of consumers say they will buy from a merchant again if the return process is easy. It also takes the pressure off your team by enabling customers to handle the returns process without assistance. Win-win, right?
Sorted's returns management platform allows you to create your own branded returns portal with ease, automatically matching to your brand including fonts, colours, and logos. You can also edit the text customers see on the customer-facing return portal. Taking the time to add your own unique brand elements to the portal encourages customers to build trust and familiarity with your shop, and SMBs who used a branded returns portals actually saw a 16% increase in online sales.
Customers who return an item through a branded returns portal are nearly 30% more likely to be a repeat shopper than those who returned items through another method. So by providing a clear policy and an easy returns process, SMBs can not only optimise the post-purchase experience, but increase brand loyalty and retain high-value customers.
---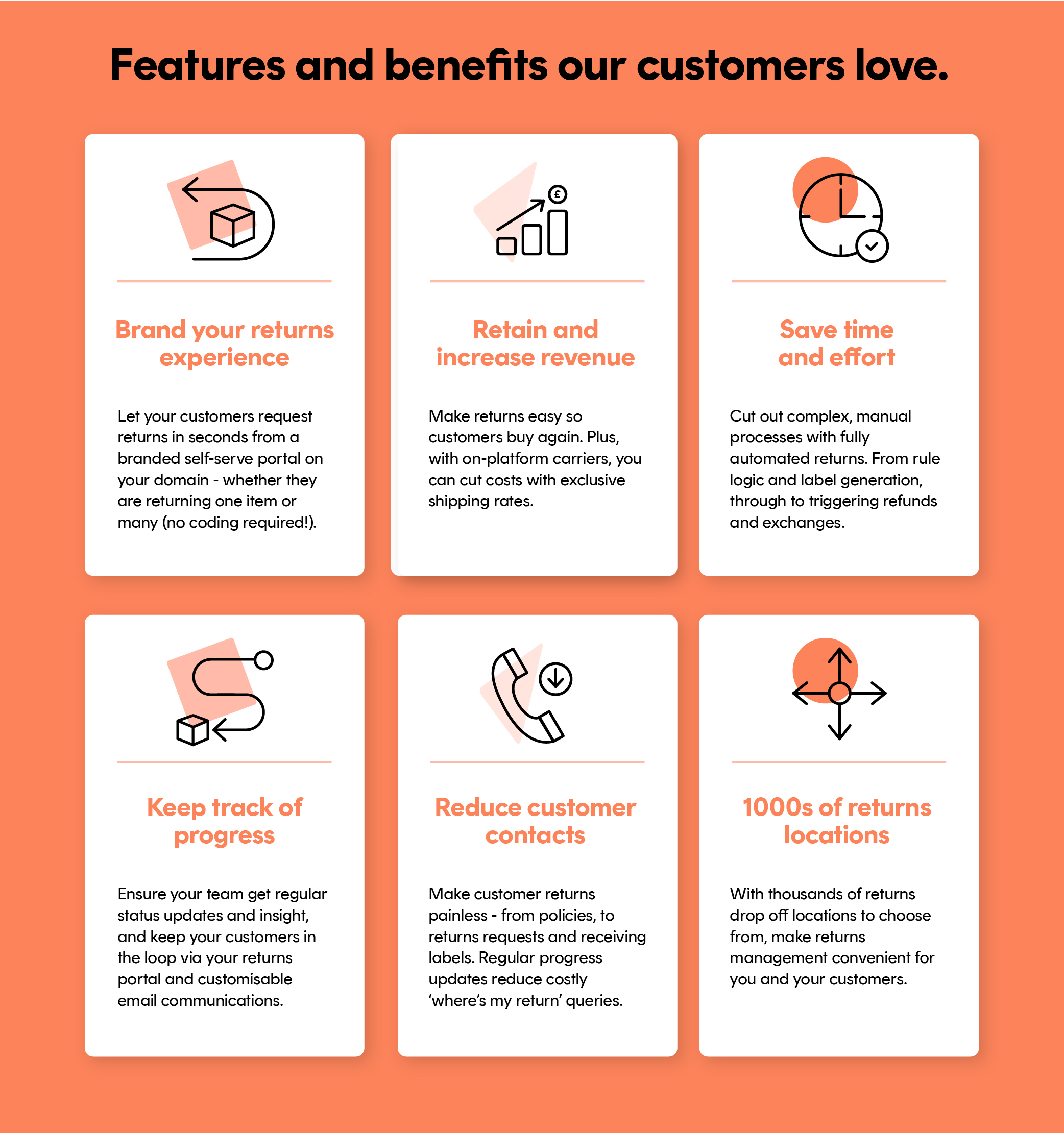 Find out what Sorted's returns management platform can offer you.
Having a sturdy returns process in place is just as important as any other stage in the customer buying experience. But dealing with returns doesn't have to feel like a challenge, no matter how small or big your ecommerce business is. By optimising your returns management, you can make returns an important part of the purchase journey, optimising customer attraction and retention. A real bonus.
---