Gymshark: Get your jaws around the delivery experience to unlock real customer value
We surveyed 2000 shoppers from Gymshark's target demographic, and mystery shopped your ecommerce journey… so, here is your bespoke delivery experience analysis.
Explore your CX priorities, and headaches. Get lessons, benchmark delivery performance and maximise your opportunities to take a bigger bite of your market.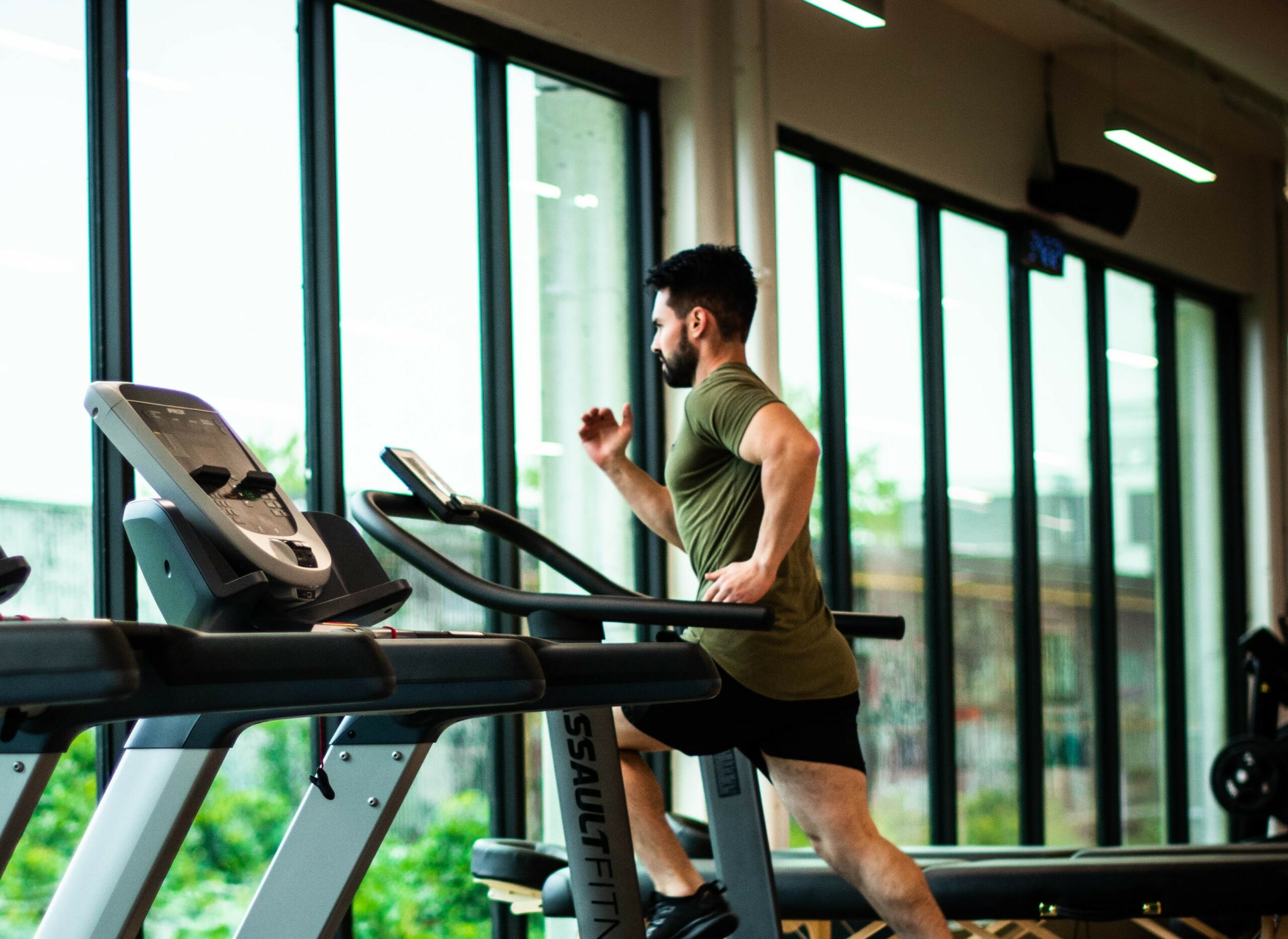 From a one-man band in a garage to an international ecommerce unicorn with offices all over the world, Gymshark has undergone some serious growth in just over nine years. To be exact, an average 3-year growth of 141%… Woah. But it's no surprise, with customers front and centre of your brand. Your customers' needs and what's valuable to them is your priority.
On your mission to drive customer centricity across the business – you've embraced a data-led mentality, focused on finding out the 'why' behind the 'what' to truly understand your fitness community, and make strategic decisions not for them, but with them.
By knowing your community better and striving to become world-class in insight capability, Gymshark can keep up with growth while still offering a winning customer experience, and getting your jaws around more revenue too. But, without access to accurate delivery data or with a lack of visibility of clear metrics, you've hit a roadblock. Making it difficult to get control of your global operations or even knowing where to start with optimising the experience for customers.
So, how do you unlock the value of an incredible customer experience?
Well, we've done some undercover research of our own to give you a leg up. And we've spoken to your young, gym-gear-buying target customers, to gauge their expectations, top priorities and biggest pain points when it comes to CX.
In this report, we outline lessons from all our research, with actionable takeaways for you, Gymshark, on how you can align your strategy to raw data, and in turn, give your customers what they want and maximise your opportunities for growth.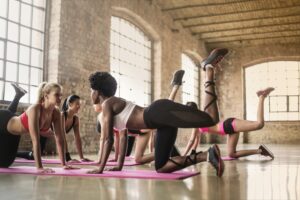 ---
Chapter 1 - Gymshark's target market: values and opinions
With 10 years of digital growth in a matter of months, comes big change, in a very short space of time. This year has been a shock to the system, to say the least. Almost overnight, we became an ecommerce economy, only shopping online – with different needs, high expectations, rising standards and, if disappointed, a low loyalty rate.
With so much external change impacting retailers' internal operations, and customers waiting at home for that parcel to land on the doorstep, it's shining a spotlight on your delivery journey, more than ever before. And we've found ourselves with a big 'delivery experience gap'. Forcing retailers to reprioritise project plans, rethink operational models and innovate at breakneck speed to try to keep up with customer expectations and protect CX.
As a data-driven business built on customer-centricity, harnessing your customers' values and opinions are key to knowing what they expect, and where to focus Gymshark's innovation efforts to create a winning brand experience across the whole customer journey. But, it's easier said than done when you're juggling different priorities and there's lack of visibility of your international operations.
So, what do Gymshark's customers really want these days?
We did some research to get to the heart of what your shoppers think when it comes to their deliveries and CX, and we've mystery shopped your delivery journey to benchmark Gymshark's performance too. First, we targeted 2,000 consumers between 18 – 35 years-old that've bought gym, sports or athleisure clothes/equipment online in the last 18 months to get their views and share it with you.
And this is what your audience said is important:
---
I want all eyes on my parcels
The top and bottom of it: your consumers want all eyes on what's going on with their parcel every step of the journey.
The people we surveyed value 'easy to access, accurate tracking timelines online' above anything else. More so, 97% of them said it's important to know where their delivery is, and have access to a clear timeline of their deliveries.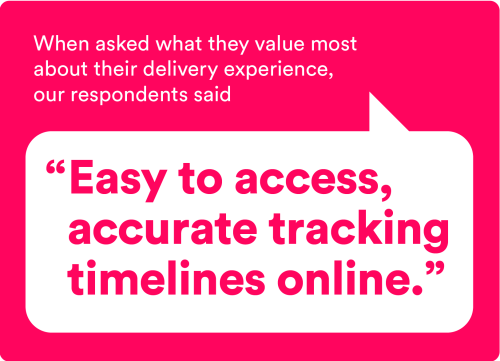 It's clear that managing expectations and keeping customers informed isn't just a nice to have, it's basic hygiene. Even with squeaky clean operations, things go wrong, and disruption is inevitable (especially this year). Pushing communications to customers when you have timely info or updates – and showing them accurate, clear delivery tracking – keeps them in the loop about exceptions. It's either make or break.
And, the cost of a disjointed post-purchase journey hits customers hard…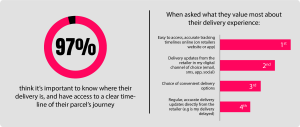 ---
---
I don't want to chat about my deliveries
When it comes to delivery issues, your audience said their biggest pain point is 'contacting customer service (CS) for information'. On average, respondents had to contact CS twice for information about their deliveries in the last six months, 71% have reached out between 1 and 3 times, and 10% have reached out 4 or more times. That's a lot of WISMO ('where is my order') to deal with.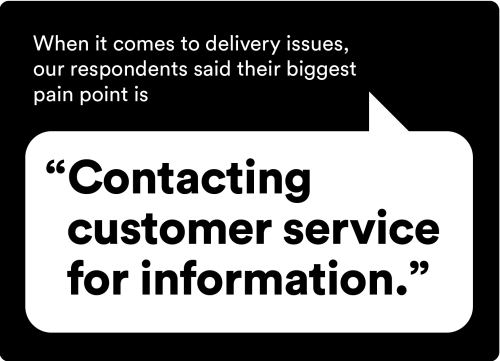 Customers dislike having unnecessary conversations just as much as you do. And it looks like they're spending more time with CS agents than they'd like to.
With no tracking at all, and inaccurate delivery updates confusing customers, it's a frustrating turn off for your target market. 75% would stop using a retailer if they frequently messed up communication updates regarding their delivery.
Not to mention, it does no favours for your delivery experience… with 42% of UK consumers missing, on average, three deliveries due to miscommunication by a brand or courier over the last few months, according to recent research. By leaving customers in the dark, CS teams are left to pick up the pieces, and often, have to try and offer support without the right delivery insights to hand too (which, obviously, leads to long resolution times).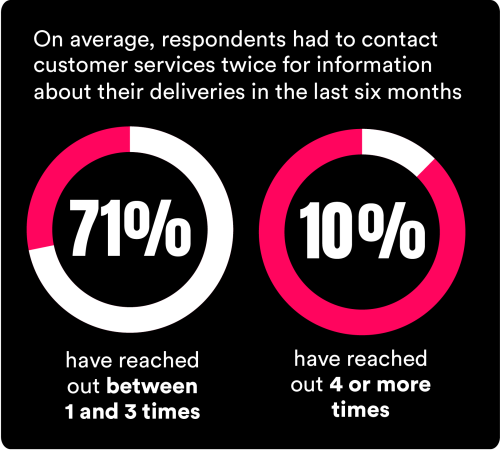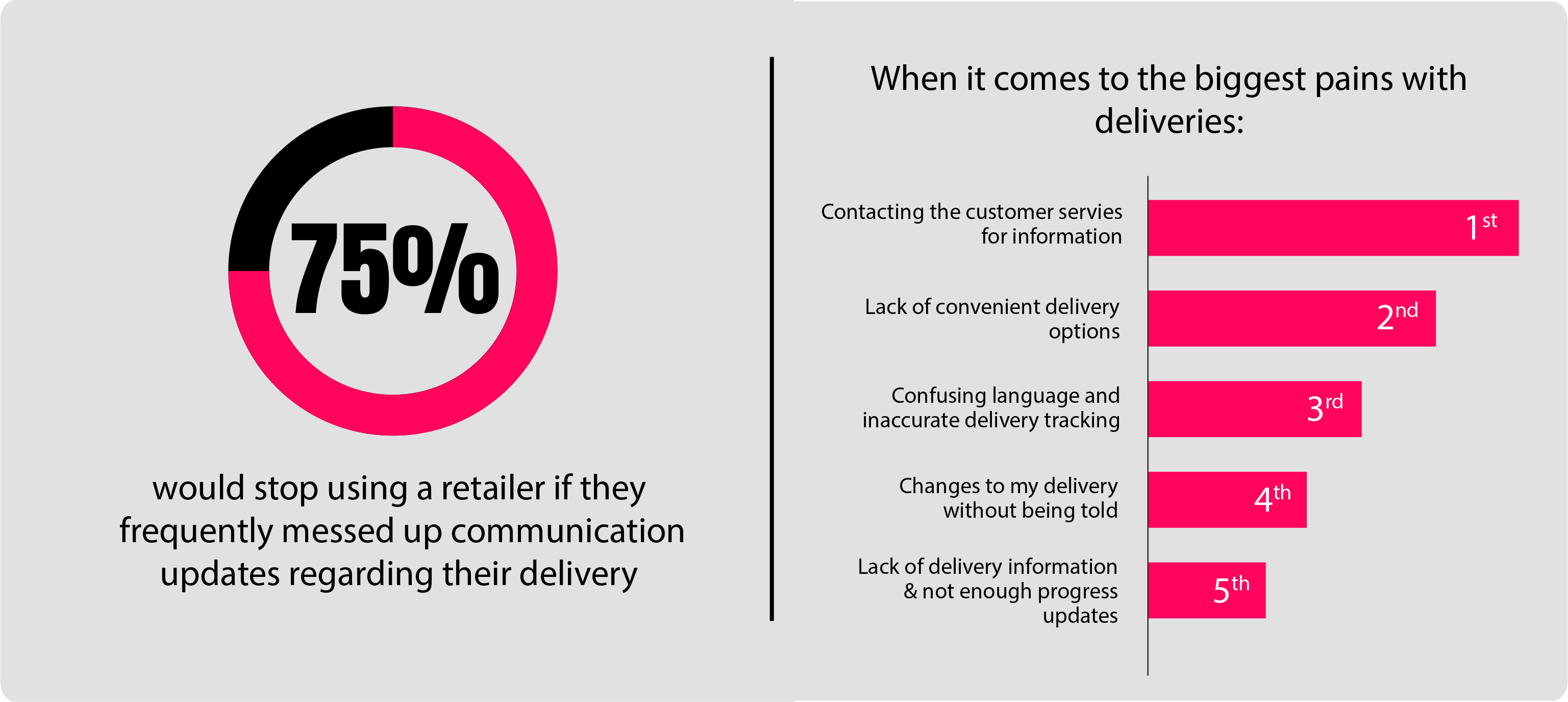 For many retailers, 80% of all their customer contacts are related to deliveries or returns – imagine the amount of time and budget you could save by letting customers easily self-serve accurate delivery information in just a few clicks.
Now we have an idea of what your customers want or don't want; it's time to do dive into Gymshark's delivery experience, align this analysis to our research and look at the value of optimising your customer journey for a competitive advantage.
---
---
Chapter 2 - Be a visionary for competitors and customers.
An honest look at your delivery experience, what we loved, your opportunities, the value of a winning post-purchase journey for Gymshark's target market and being a visionary to your competitors and customers. Plus, summarised lessons from these key post-purchase touchpoints; the order and delivery comms, and tracking provision.
---
Loved
The option to opt into SMS updates, giving us control over how the brand communicates with us (although, in reality, we only received one tracking text).
Opportunities
To make a fully connected delivery experience, customers would expect a brand as innovative as Gymshark to have an engaging customer journey. In reality, the lack of accurate branded tracking meant that we dealt with the carrier more than the retailer, which won't keep customers loyal.
Start as you mean to go on.
During our buying, we reviewed the order confirmation with analytical eyes; we'd expect to see delivery tracking links, estimated or committed delivery date and, in the simplest form, a good, informative summary of the full order details.
Gymshark's order confirmation provided a brief summary of the order, bonus points for giving customers the option to get delivery updates by SMS (even though, only one message was sent). A key bit of info was missing in the confirmation page and email: estimated delivery dates or the direction to parcel tracking. For the likes of your competition, Adidas' customers are directed to branded tracking right from the get-go and can self-serve deliveries in minutes. But there's opportunity here – many retailers direct customers to clunky third-party delivery timelines or fail to hook customers with branded tracking straight away, letting the carrier communicate tracking instead. Remember, your customers told us that they want eyes on where their parcels are, so optimising this part of the journey will turn buyers into advocates.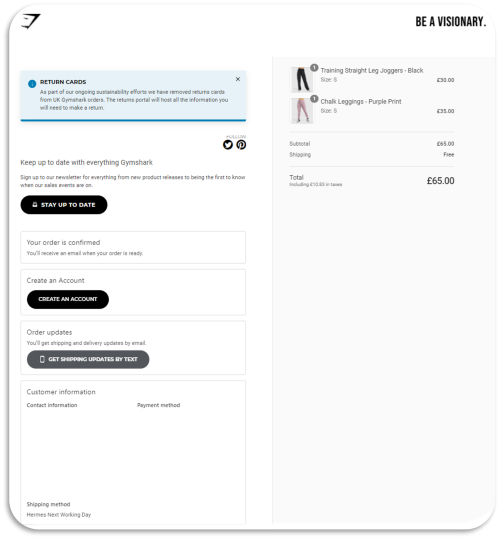 Key takeaway
Allowing customers access to accurate, branded delivery tracking across the whole journey should be hygiene but, in reality, it's relatively uncommon. This leaves room for huge competitive advantage for Gymshark; give customers immediate control of their deliveries, lets them self-serve any queries and reduces your WISMO problem.
Wrap customers in the Gymshark experience
You've done the first bit – arguably the hardest part. You've captured the customer and they've clicked the buy button. But now you wave that customer off into the sunset, and hand them over to another brand.
When it came to the rest of your delivery tracking and comms – you lost the final piece of the jigsaw, putting your post-purchase updates in the hands of a third-party carrier.  IMRG found that over 80% of customers expect tracking to come from the seller, and delivery communications are just as important.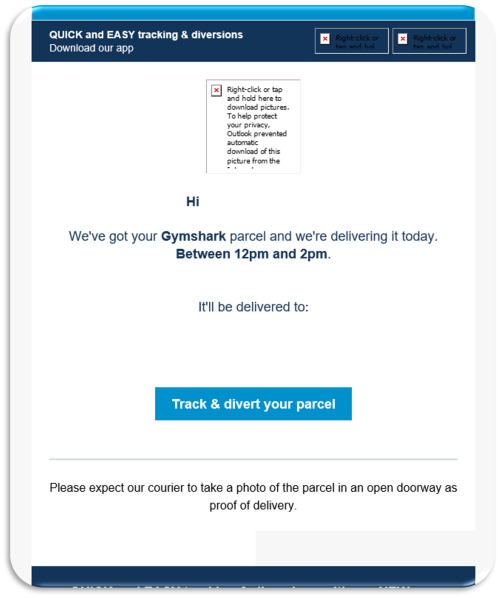 More so, when we spoke to your target audience, 76% said that knowing they have a delivery coming today makes them feel excited. So, this is a critical touchpoint to get more connected to customers and keep them wrapped up in your beautiful, bold brand.
While 47% of your customers prefer email for delivery updates, a huge chunk (53%) prefer comms through SMS, digital apps, social or a mix of channels. What's more, this young target market rated 'choosing their digital channel of choice' for delivery updates as the second most important factor for their delivery experience.
While Gymshark gave us choice to get additional delivery updates through SMS, most of the comms came through email, in 'carrier lingo', and were few and far between. Why not give your customers the choice to get updates wherever they want them?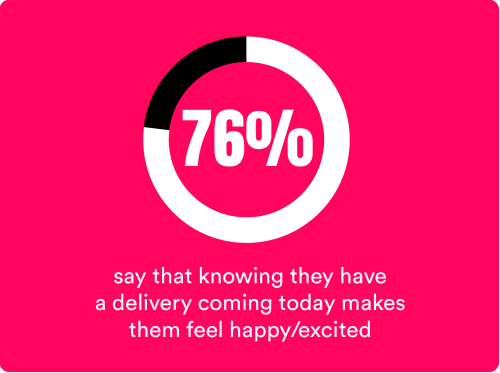 Own the conversation and talk to customers in your tone of voice. Better still, with automated delivery comms, get one step ahead of customers to let them know about exceptions, without even having to lift a finger. According to our research, 57% said quick updates from the brand, or a discount or refund offer, would make up for the disappointment of delivery delays.
It happens, things go wrong. So, while you're automatically protecting customer experience, you might as well get an upsell opportunity. A massive 84% of your customers are likely to click an ad if it was sent in a branded delivery update email, or displayed on a delivery tracking page; not only does having visibility of deliveries satisfy customer need, it's proved to boost mobile click through rate by as much as 83% for N Brown  (showing there's massive appetite for this information) and can generate more revenue.
---
This combination of proactive, accurate communication and customer self-serve keeps your WISMO customer contacts low, NPS and CSAT scores high and get you ahead of the competition. For instance, retailers such as Nike might have branded comms through an app, but it's delivery comms were lacking and the carrier owned this part of the journey.
See how our unstoppable customer, musicMagpie saw a 63% reduction in WISMO queries by owning the delivery experience end-to-end. And that's not all, having full control of your post-purchase journey provides quick access to data and it's simpler than you think to turn insights into action.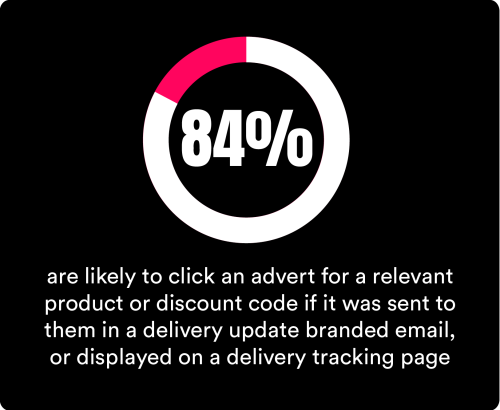 Key takeaway
With automated delivery comms, be on the front foot of disruption and get ahead of the competition. Maximise your opportunities to upsell, while automatically protecting the CX.  Saving valuable time and pushing up that bottom line too.
---
Chapter 3 - Unlock your full potential and turn insights into action
When there's lots happening and your data is making no sense, or you've got limited visibility of operational performance – it can be frustrating for you and your customers, when the phone's always ringing or they're dropping into inboxes every second with delivery issues. And actually, it's quite scary when you think about all the important insights you're missing out on.
Using delivery insight to crack the connected CX challenge is critical – this will always give cues to what needs finetuning and how customer expectations are changing. However, many retailers aren't harnessing data in the right way, or just don't have access to accurate intel.
But it's easier than you think, even for retailers with a global operation, multiple DCs across the world and a complex carrier mix, like Gymshark. A smooth, reliable stream of actionable insight and a connected customer journey can help inform your CX strategy and optimise operations.
These days, a winning customer experience is the key differentiator in a busy, competitive market. In fact, our recent study of 60 retailer customer journeys found that 87% of retailers are offering a customer experience that is average or below expectations – this leaves huge opportunity for Gymshark to move into a leading space occupied by only 13% of the UK retail market.
Before we uncover some of the valuable data and tools to optimise CX, it's important to understand exactly what we mean by 'insight':
---
Daily management and monitoring
Teams having access to the insight they need to do their jobs effectively and serve customers efficiently. This is often insight 'by exception', meaning that it isn't necessary to see everything that's going right, but business critical to see everything that's going wrong.
Longer term insight to inform change
Trend spotting and case building. This is the insight that you might not need for 10 months of the year – but when you need it, you really need it. This type of insight ensures business direction is aligned to customer need and behaviour on a larger scale.
Both types are important for giving your customers the experience they expect. Gymshark needs total confidence in data accuracy to ensure insights are trustworthy and reliable. For this, all post-purchase data should come through a partner who is directly integrated with carriers, rather than relying on scraping methods.
Insight and tools to add value to Gymshark:
Trend spotting
Having a longer-term view to accurately spot, and act on, trends is a competitive edge.
This is where the longer term, historical insight access is so important. Whether you need to pull a list of lost parcel deliveries from Australia or UK, having the power to look at geographical trends ahead of a busy peak period, is critical for planning and optimisation.
So, what kinds of insights could Gymshark monitor over time?
Metrics around which deliveries were early, on-time, or late. What are the common themes on those broken promises? You could also look at reviews and social media messages, to see whether there's a correlation between those delivery performance metrics, and that influx of negative feedback.
Crisis management
Has major disruption closed borders? A carrier hub straining under demand?
No two days are the same in logistics, and having the insight to act fast is critical for meeting customer promise.
Having this crisis intelligence isn't difficult. By using clever automated alerting, CS agents get notified when there are shipment issues – meaning warnings such as 'parcel is late' or 'parcel may be missing' can be triggered, even if the carrier hasn't yet passed over an update yet. So there's no extra pressure on strained CS teams.
Keep a close eye on carrier performance
Getting access to insight on carrier performance can be tricky. And when it comes to carrier reporting, it shouldn't be down to the carriers to mark their own homework.
Having access to accurate data on your carriers' delivery promise success rates is a huge plus. Also, having detail such as 'early', 'on time' or 'late' parcel performance metrics means you're fully in control and, ultimately, broken promises can be tracked and reduced.
Compare delivery success to your customer survey metrics by carrier, to see what the correlation is between broken delivery promises and a fall in NPS (or a rise, in line with kept promises of course).
Personalisation and segmentation
With branded tracking pages or in-app tracking, you have a captive audience. This is the perfect place to tailor your content to different personas or segments, upsell and take those all-important insightful learnings from consumer behaviour. Monitor engagement with your ads and recommend content based on their preferences.
Pass data in real-time
Using webhooks to trigger communications or speedily and accurately automate data transfer to customer service platforms or customer intelligence tools, enables data to be tracked and analysed in your own data lake or warehouse.
Setting up automations by using webhooks means that, whenever a parcel reaches a certain shipment state (such as 'delayed'), Gymshark is always able to keep customers in the loop and stay connected.
---
And if we haven't said it enough already… experience. Unlock your full potential and inform customer service teams, resolving any issues and answering queries before they hit CS agents. Turn insights into action to fix your delivery experience and win that customer loyalty and share of wallet too.
---
Key takeaway
Having access to accurate data on your carriers' delivery promise success rates is a huge plus. Also, having detail such as 'early', 'on time' or 'late' parcel performance metrics means you're fully in control and, ultimately, broken promises can be tracked and reduced.
---
Chapter 4 - Take a bigger bite of the retail world
If you get it right, and offer that 5* customer experience in the post-purchase journey, you seamlessly drive growth. But a disjointed post-purchase experience undoubtedly leads to unhappy customers – and uninformed, overloaded teams.
And the cost of not optimising the delivery experience could leave holes in your pockets and customers turning their back on you…
---
93%
of customers read online reviews before buying, and delivery experience is consistently one of the most common sources of complaints and negative feedback for retailers.
90%
of customers would shop again following a positive delivery experience
45%
of customers would refuse to shop with a retailer or brand again following a poor delivery experience.
Retailers and brands are losing
£68,000
a year due to failed deliveries.
Post-purchase tracking and communications = customer contact reduction
Fill in the calculator for a quick estimation of the money and contact centre minutes you could save with post-purchase tracking and comms software.
1) Fill in your average number of WISMO or WISMR customer contacts per year
2) Enter the average cost of a WISMO or WISMR customer contact (We find, on average, it can sit around the £4–£6 mark for a call)
3) View your potential savings
Data is based on Sorted customer success metrics, and WISMO/WISMR customer contact reduction is just one area where you can measure savings.
Number of contact per year
Savings with REACT
Minutes saved per year
As a rapidly growing e-tailer – you're looking to make marginal gains, BAU optimisations and large transformation initiatives.
Regardless, making changes to the customer journey, or internal operations and processes, requires time, resource and business buy-in. All three are easier to secure when driven by actionable insight, and you have the courage of your convictions to align your strategy to your customers.
It can be tough prioritising innovation and evaluating your options to improve the CX, especially with a lack of data. We like to make everything as easy as possible for retailers – true partnerships are all about support and collaboration. So, with all this evidence, best practice and guidance, you have sight of what your customers are thinking, how you're performing against the competition and there's plenty of opportunities to get your teeth into as well.
We're on hand to help you solve challenges at every step of the delivery journey. Our experts can work closely with you to define the best for you and your team, to ensure a perfect fit for Gymshark.
For any tech-savvy bods, looking for access under the bonnet – here's technical documentation, integration designs and API information upfront. Plus, we have some awesome support packages too – give the team a shout if you have any questions.
---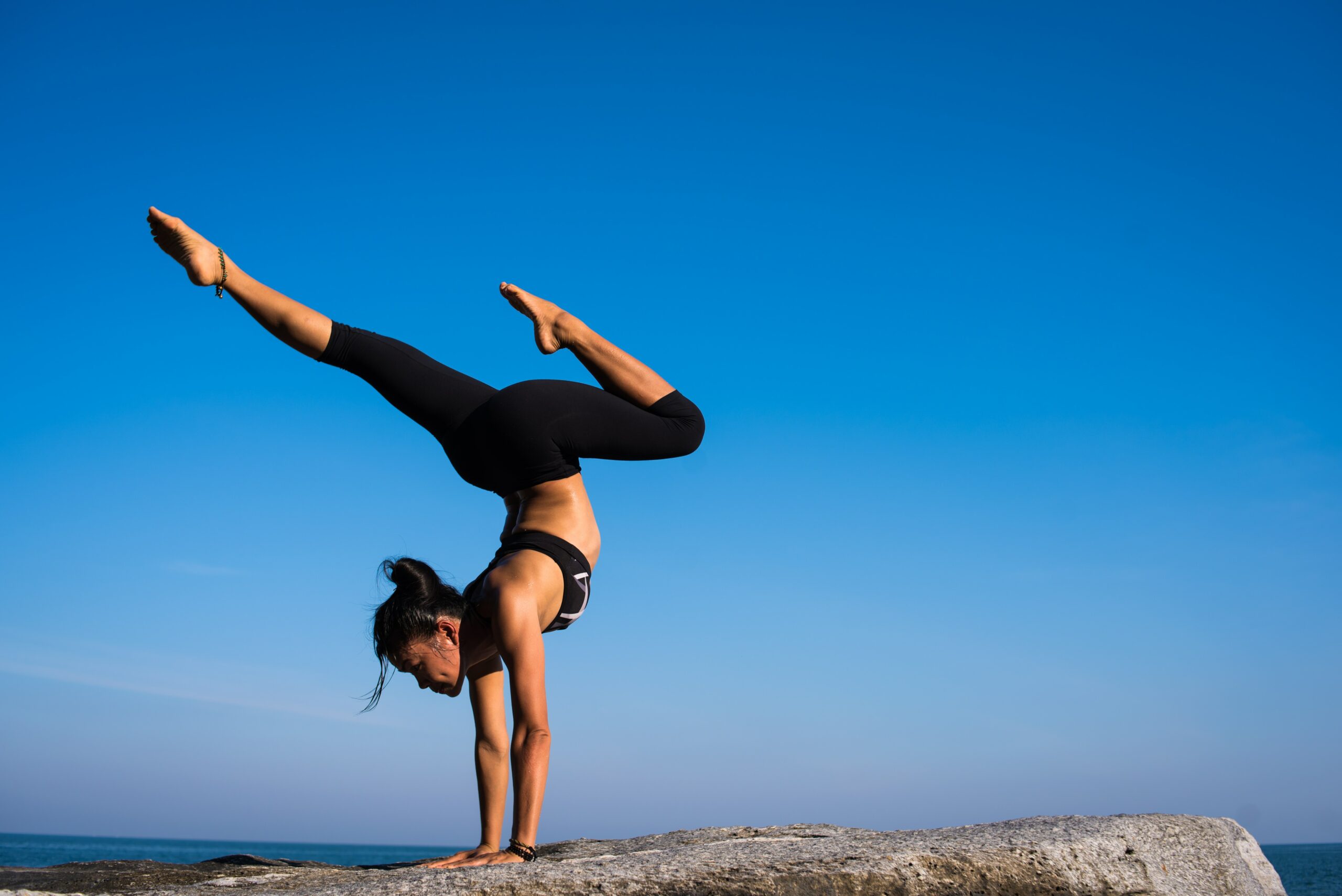 The world revolves around data. Without understanding the 'why' behind your delivery data, you're only seeing half the story. When there's a hole in your data capabilities, mapping the correlation between CX and deliveries is impossible. If Gymshark isn't bringing innovative and accurate data into strategic business decisions, you'll be one step behind customers, and worse still, risk falling behind competitors that do. Don't fall behind.
While you're on a mission to make Gymshark the most successful British fitness brand in the world – the most effective route to more revenue and global domination is clear: connect with customers, drive loyalty and make informed changes to your operations, fast.
Ready to take a bigger bite of the retail market?
---
---
Let's chat.
One of our specialists will be more than happy to discuss in more detail. Contact Rob Eadie directly, or hit the button below to leave your details and we'll be in touch as soon as poss.
Get in touch