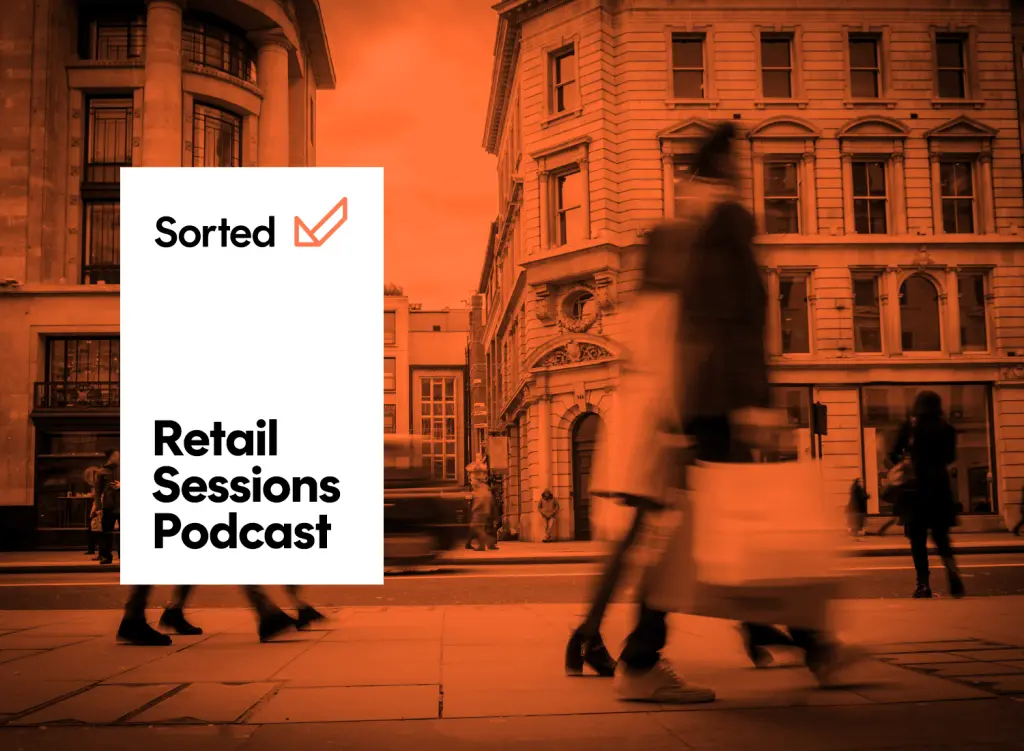 Drop what you're doing, it's time for episode two of the Sorted Indie Retail Sessions podcast!
You may have already heard about our new series – The Sorted Indie Retail Sessions, where we're talking with small business owners, founders, and leaders to find out the challenges and eureka moments that come with building an online brand from scratch.
Each episode gives you the chance to hear from a guest entrepreneur, leader or industry expert about their experiences of building a business. From coming up with the idea, to the moment they felt they had 'made it', this podcast series features the tips, tools, and stories of the industry innovators and inspirational go-getters of today that work continuously for customer delivery experience perfection.
With a particular focus on post-purchase, expect to hear plenty of anecdotes and advice about honing the all-important delivery and returns experiences for small business customers, and why the customer experience shouldn't end after they click the buy button.
---
Episode two rundown
In the second episode, we speak to Taylor May Woolsey van Maasdijk, Operations Director at RESPONSIBLE, a growing clothing brand that's all about the circular economy with a sole mission to make existing fashion more sustainable.
This session is full of interesting insights and anecdotes about how to grow a business without compromising green credentials, such as making delivery and returns sustainable yet convenient, why customer loyalty is so important, and the most effective tactics they use to engage customers.
Don't have time to listen to the full episode? We've summarised it for you here.
One of the first things we wanted to know, was how their Trustpilot reviews are consistently full of cheerful customers raving about their experience. The answer? Customer service is number one. RESPONSIBLE make customer service a key pillar in the business and decided against having chatbots that respond to queries. Ensuring ultimate accessibility, each customer is instead able to speak to a person straightaway.
The entire business is passionate about ensuring excellent service, with each team member – including the CEO – participating in customer service at various intervals.
---
---
With the circular economy at the heart of what they do, Taylor shares why they value Lifetime Value (LTV) and loyalty over sheer profit. LTV is the estimate of the average revenue that a customer will generate throughout their lifespan as a customer. The metric is particularly important to RESPONSIBLE as a brand in the circular economy, as they wanted to create a continuous trading cycle in which customers can buy items and then trade them back in to be resold once they've finished wearing it.
---
Of course, that means returns are an essential part of their business model. Taylor talks about the challenges RESPONSIBLE face with returns, and the solutions they've found to make the process as easy as possible for their customers, while keeping sustainability at the forefront.
We found out how RESPONSIBLE focus on making every aspect of the brand sustainable, including their post-purchase strategy, discussing the methods they use to keep their carbon footprint low, and the investments they've made in environmentally friendly delivery materials. Is biodegradable packaging really as sustainable as you think?
---
With the brand based in Northern Island, Brexit posed a particular challenge for them, pressing them into looking at setting up a logistics framework for delivery and returns that works well for their customers in the mainland of the U.K and Europe.
Therefore, a framework that allowed plenty of movement while still maintaining their environmentally friendly ethos is required. Investing heavily into returns, Taylor describes how they're looking into reusable packaging, such as 'takeaway bags' that customers receive with their order and are encouraged to keep, before returning the item to be resold.
---
However, as Taylor touches upon, customers can find returns an inconvenience, particularly if there are limited options available.
---
Retailers can be understandably uneasy about the idea of making returns simple for customers. But making returns convenient can increase your customer loyalty and even sales. If you have a transparent and easy returns process, customers will view your store as trustworthy, and they'll be more likely to purchase something if they know they can send it back. They'll also be more likely to shop with you again in the future.
---
Want to hear more of the takeaways from the interview? Head to sorted.com/podcast to check out the episode with Taylor – and find out what apps have been a game-changer for RESPONSIBLE as they continue to grow the brand.
---