Secret shopper report, chapter 2: findings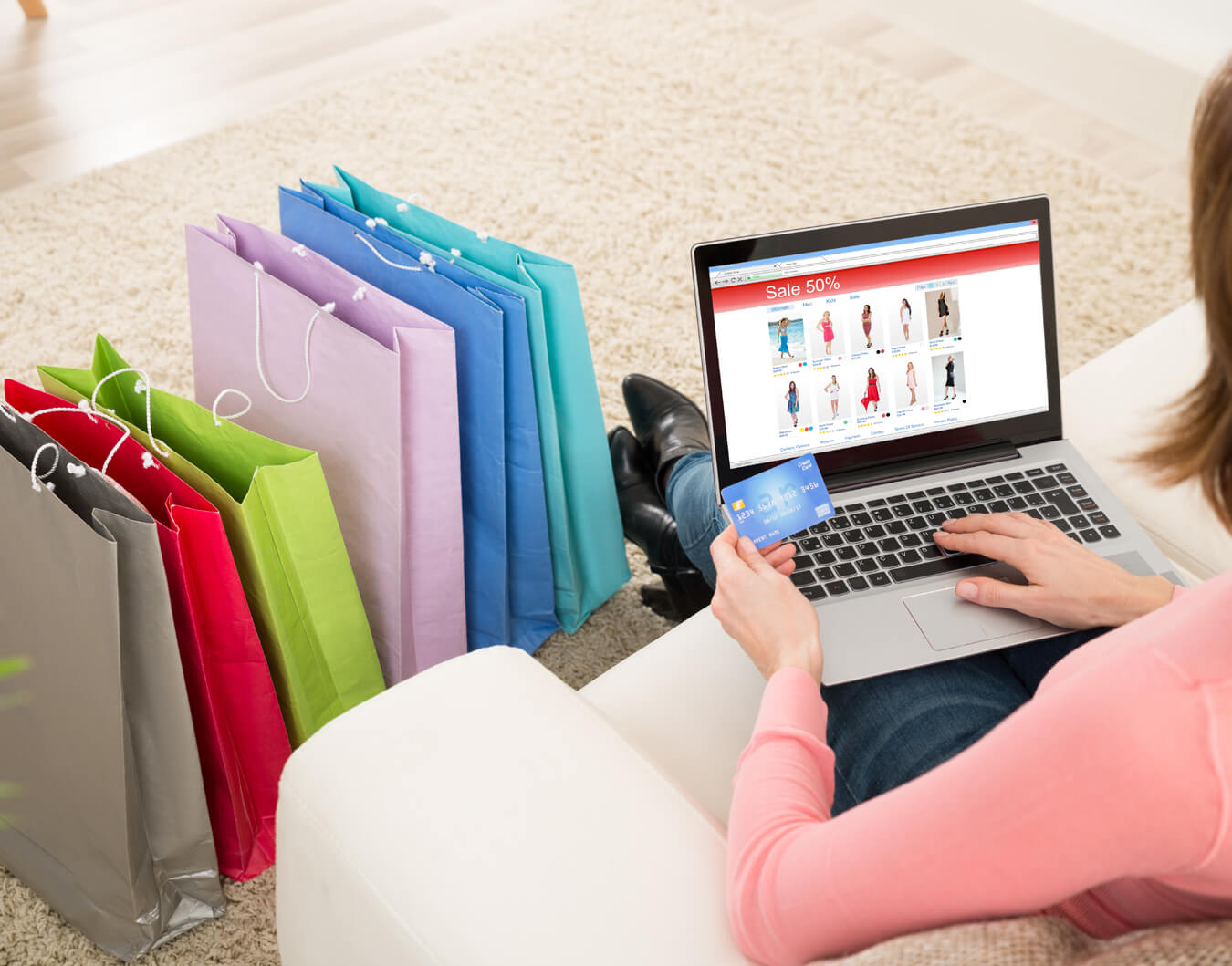 Chapter Two
An honest look at our ecommerce experiences, with summarised lessons from each key customer touchpoint; the purchase, the delivery comms, the tracking provision and the customer service interactions.
---
Secret shopper findings
From November 2020 to May 2021, we shopped online with 60 ecommerce retailers of differing size, shape and model, to conduct in-depth analysis on the best and worst post-purchase customer journey experiences in the market today.
We split the analysis into four areas; the checkout and purchase, the delivery communications, the delivery tracking provision and the customer service experience. These areas cover the four points at which the retailer or brand has the biggest opportunity to positively, or negatively, influence customer satisfaction throughout the post-purchase journey. And happy customers equal happy retailers.
From each of those four touchpoints, across our 60 retailers and brands, we were able to create a true view of how much connectivity is present when customers shop online… or just how much is missing.
Here are some of our findings – the best, and worst, examples of customer post-purchase experience.
Touchpoint one – the checkout & purchase
At this point in the journey, the customer is likely to already know what product they want. The item will be in their basket and they'll be ready to click the buy button and make the purchase.
But there's still a lot of drop out risk, and there's still a lot of opportunity to create a promoter.
Most basket abandonments or checkout dropouts come from customers who are disappointed by delivery options choice – in fact, up to 40% more conversions happen when a retailer gets the delivery offering right. We've seen our customers improve their NPS score by up to 6% when they improve checkout delivery options.
During our buying, we looked at when, where and what delivery signposting informs customers of the different final mile options they could choose from.
We also reviewed the order confirmation stage, in which we'd expect to see delivery tracking links, estimated or committed delivery date and a good, informative summary of the full order details.
---
Of all our checkout experiences, the strongest journeys told us about delivery options before we'd even picked an item to buy. That's not a surprise, of course. But what we discovered were a few innovative ways of setting customer expectation pre-purchase.
A lot of retailers and brands had a static banner across the site, often under the navigation bar. These advertised speed or cost of delivery.
Good examples of this include the Perfume Shop, Kaleidescope and Adidas journeys, in which we felt totally informed about our delivery choices before we hit the basket.
The most impressive retailers gave us accurate delivery estimates on the product page, showing stock availability and giving us dates that we presume fell within the operational capability of the fulfilment teams.
Studies have shown that 88% of customers would prefer a variety of delivery speeds. So, when it came to the checkout, the very best experiences put us in control of selecting the delivery option that suited us best.
With plenty of choice, Gear4Music did a brilliant job of offering us options, as did Superdrug (with varied speeds, including Stuart and 30 minute click & collect) and Sports Direct (which included carbon neutral DPD delivery as an option).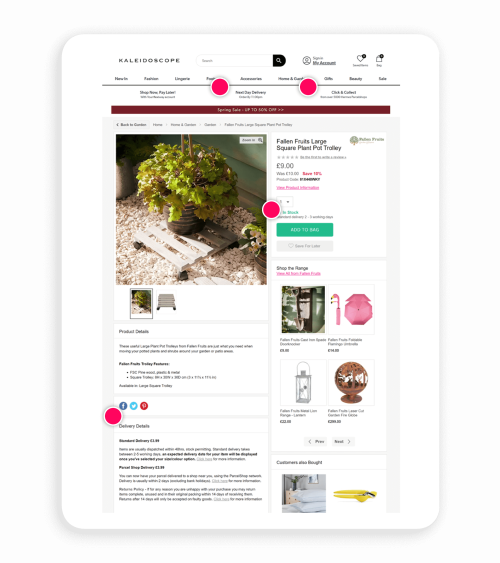 It's hard to believe that some retailers and brands are still prescribing delivery options, giving customers no choice whatsoever.
And we found a number of retailers and brands who gave one single delivery option, including Lands End, Ralph Lauren and Swarovski. This is a real missed opportunity to put customers in control with convenience and cost effectiveness.
Further, on the whole, the order confirmation page seems to be a forgotten touchpoint. When the customer has finally clicked 'complete purchase', it's prime time to keep their attention, set their expectations and ensure they have all the info they need to reduce the risk of them contacting you to ask 'where is my order' (WISMO).
Many confirmation pages and emails didn't list the expected delivery date or customer delivery promise details – including Flannels, who had a rather empty purchase confirmation page that lacked even basic order info. Pages like this left us with questions about next steps and timescales. But these touchpoints have the potential to be so much more powerful than just a transactional page.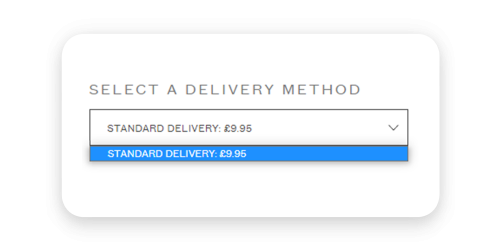 Key takeaway
Accurate delivery signposting should be highlighted as early in the journey as possible, to help set customer expectations. At the checkout, delivery options should be varied to account for different customer needs. Finally, the order confirmation page should be utilised as strong real estate to communicate customer promise.
Touchpoint two – the delivery communications
---
The purpose is expectation management. You push communications to your customers when you have info or updates – and there is nothing more important than keeping them in the loop regarding their delivery. Especially if something is going wrong.
This is where you connect with your customers and build lasting relationships. Here, retailers interrupt the customer's day to pop up and give updates on the customer's turf. Brand engagement and exposure, to create those connections, is most important here.
IMRG have found that over 80% of customers expect tracking to come from the seller, and delivery communications are just as important.
When shopping, we paid close attention to which retailers and brands were communicating in their own brand, through their own channels, rather than communications coming from carriers or third parties. We assessed the timeliness and informativeness of the communications, and looked at the general tone of voice that was used across the notifications.
The best journeys had multiple communication touchpoints across multiple channels to ensure we were kept completely informed.
Channel mix is important. We found that too many retailers were email only (such as Birchbox and AllSaints). Some retailers offered us the choice to opt in or opt out of certain comms channels, but this had varying results – for example, Gymshark gave us the option to elect for SMS notifications, but we only actually received one single update through that channel.
Not only were multiple comms channels informative, they encouraged digital adoption and engagement (i.e., pushing us to download and use the retailer app). Nike is a brilliant example of app push notifications, with proactive, timely and useful delivery tracking updates.
Although duplicated with carrier comms (which we'll cover in the section below), Perfume Shop notifications were timely and communicated relevant changes (with brand comms often arriving before the carrier comms did).
Some retailers really owned branded comms successfully, such as Buy It Direct and Dr Martens (who had great tone of voice when updates were branded).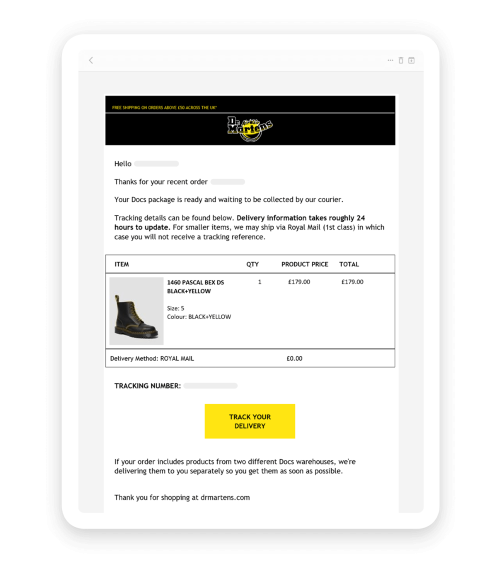 Although it sounds contradictory… over communication was a very apparent problem.
Retailers were sending updates, and carriers were sending duplicate updates – meaning we were getting multiple notifications for every delivery status change. In one instance, we had eight notifications in just a few days about our Zara delivery.
Over-complication and over-communication can cause customers to switch off. Updates should be timely, informative and necessary. And should definitely come directly from the brand, in every instance.
Unfortunately, this was rarely the case. With most retailers handing all delivery communications over to carriers at some point in the journey.
In some respects, this levels the playing field considerably, in terms of customer delivery experience. It creates a lot of similar journeys, as customers are spoken to by the carrier. But that creates a big problem. We found a lot of our journeys were faceless, brandless and nondistinctive. When we had updates from the brand, it almost always made us feel more excited to receive the parcel.
Lastly – it's during tough times that comms shine. For a couple of deliveries, things went wrong.
It happens. And, as customers, we're (on the whole) understanding and patient. The frustration came when we were left in the dark, or things changed and we weren't told. For example, Grattan and Kaleidoscope delivered a day earlier than originally planned – tracking updated, but comms didn't inform us… which created a confusing experience.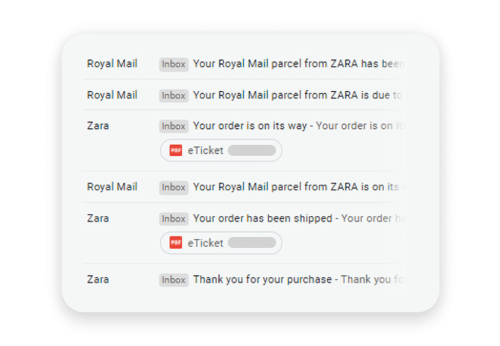 Key takeaway
Retailer-owned comms, through multiple channels, increases brand affinity and creates the chance to upsell. Over-communication had a detrimental effect on customer experience, but this touchpoint is absolutely crucial for building customer connections.
Touchpoint three – delivery tracking
---
The single, most effective way to reduce WISMO enquiries, or increase customer satisfaction, is to ensure your buyers are able to self serve their queries and access the tracking updates they want, whenever they want to.
This was definitely the weakest of the four touchpoints in terms of offering customers that 5* post-purchase experience. This is clearly where retailers and brands have the biggest transformation to make.
When shopping, we paid close attention to whether retailers had branded tracking pages on their website or app. According to Royal Mail, 74% of online shoppers are more confident ordering online if they can track their item – so it's clear that tracking is fundamental to building trusted customer connections. You wouldn't send customers to a third-party website to checkout, so why send them to a third-party website to track?
As well as brand immersion, app and branded webpage tracking is critical for upsell and driving digital adoption. By working with Sorted, JD Williams (N Brown Group) moved their tracking into the app and saw a 33% reduction in visits to the out-of-app order tracking as a result.
A star in the show was Nike, who gave us access to basic tracking immediately after ordering, then within a day or two, a link to a comprehensive tracking page was communicated to us. Although some elements of the Nike journey didn't meet our expectations, tracking generally played a big part in our positive experience with the brand.
Where retailers or brands offered embedded tracking in their app, it definitely encouraged us to download – and it kept us browsing as a result.
When retailer tracking is beautifully branded and kept up to date, there is significantly less chance of an enquiry, issue or complaint from the customer.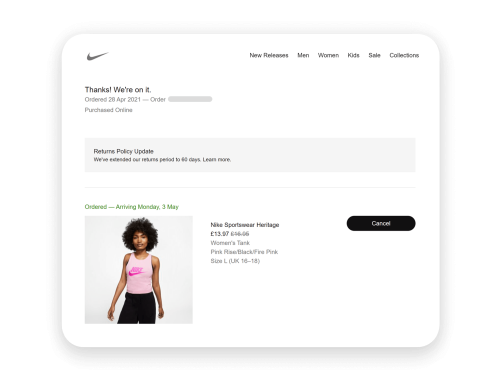 However, there are too many horror stories for us to name when it comes to our tracking experience. It was unbelievable how many retailers had a tracking offering that was slow and uninformative.
The only thing worse than no tracking, is delayed tracking. If it's not timely and correct, it's causing more harm than good. This is an issue we came up against time and time again throughout the 60 retailers and brands we shopped.
A few (anonymous) examples…
On the morning of delivery from Retailer A, the tracking was contradictory. App tracking told us the parcel was 'dispatched', web tracking told us that the parcel was 'already loaded onto a Hermes truck', and another tracking bar that told us our parcel was 'in the warehouse'. The updates on the tracking timeline in general weren't very useful – for example, how does a customer know the difference between 'dispatched', 'in transit', 'being prepared' and 'out for delivery'? On top of this, tracking told us that our parcel was delivered on 26.05 (when it was actually delivered on 29.04).
Retailer B said 'ready to be shipped' on the brand site, but the carrier site told us the parcel was already at a depot.
Retailer C delivered our parcel, but for a while afterwards the tracking page in the app still said 'dispatched'.
Retailer D offered no tracking whatsoever, with a long paragraph of text in the delivery confirmation email informing us that delivery may take longer than 7-10 days and would be sent by untracked post.
These types of experiences were common, and confusing, and definitely not what customers expect from leading brands; particularly in a post-pandemic world.
In instances where self-serve tracking is poor, customers are much more likely to get in touch with the customer services team for those costly WISMO enquiries…
---
Key takeaway
Allowing customers access to accurate, branded delivery tracking on demand should be hygiene but, in reality, it's relatively uncommon. This leaves room for huge competitive advantage for retailers and brands who can offer customers a connected tracking experience.
Touchpoint four – customer service interaction
There should, hopefully, be no need to contact customer services (CS). If you get comms and tracking right, you're completely mitigating any need for WISMOs (or WISMR – 'where is my return?') enquires to hit your team.
But, for the few contacts that come in, that's your chance to shine. We put some of our retailers and brands to the test.
A recent study by Zendesk found that 64% of customers used a new support channel in 2020 – and 73% plan to keep using it.
Our figures tell us that, for some retailers, 80% of all customer contacts ask 'where is my order' or 'where is my return' – and with each contact costing between £4-6 to resolve, it's an expensive headache to have. Not only that, but Google Trends shows a rise in searches related to delivery tracking, and 81% of customers say tracking is important to them.
From simple WISMOs to address changes, our mystery shopping explored the offering of some retailers to see how quickly and efficiently our issues were resolved.
---
The top of the class for our customer services experience is unquestionably Pets at Home. We almost didn't have the need to get in touch with CS about delivery, because the tracking was brilliant and the customer service FAQ portal answered almost every question we could have about delivery. In the end, we did a live chat enquiry to ask whether we could expect text message communications about our order status… the response was quick and from an informed human (or a VERY convincing bot). Exemplary.
Other great experiences were defined by the insight the operator, or bot, had about the delivery. Regardless of how busy an agent is, they should be able to provide tracking updates within seconds, without needing to trawl through portals or clunky reports or spreadsheets. When speaking to customer services, it was very clear which retailers had speedy access to the insight and shipment tracking data they needed to serve customers. Gymshark chatbot was useful, and we used Superdrug CS through online chat and Twitter, which was a smooth experience too.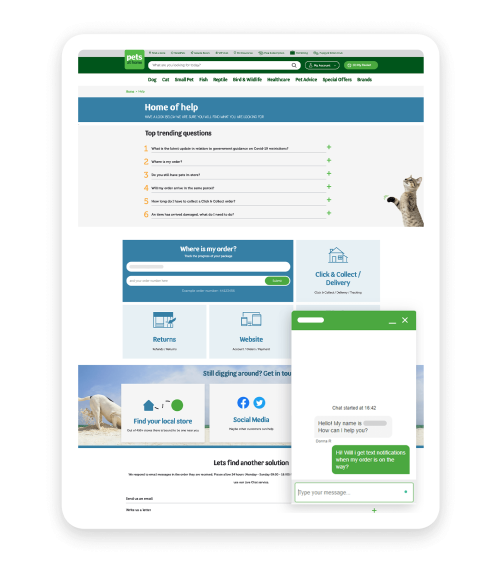 Some CS experiences were less impressive.
Sports Direct, for example offered us an online form for WISMOs that resulted in a response that came a day later than our delivery did. And EE and B&Q, at the time of writing, are yet to get back to us.
Not all customer service channels are created equal. We put together this guide on the real cost of the retail WISMO problem (and how to reduce it).
It's not all doom and gloom though; 90% of customers would choose to shop again following a positive delivery experience. And that's what to strive for.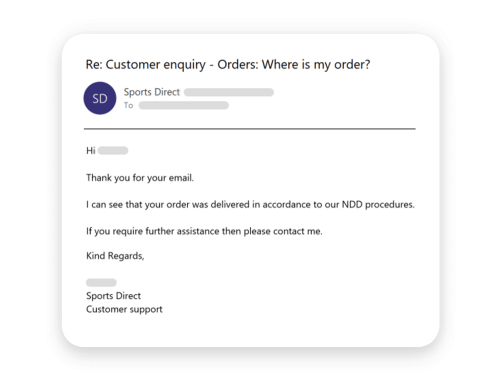 Key takeaway
Customer service experiences are smoother and have quicker resolution times when the agent or bot is able to answer WISMOs and WISMRs efficiently using accurate delivery insight.
Move on to chapter 3 next, for a run down of the gaps and opportunities we identified from our findings...